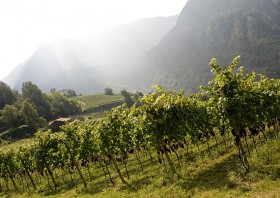 We presented several wines from Castelfeder at the recent AIDS Project of Southern Vermont tasting; they were extremely well-received. The indigenous grapes of the Alto Adige region—Muller Thurgau, Kerner, Schiava, Lagrein, may not be on the tip of everyones' tongues, but they are aromatic, flavorful wines that settle right in at the table.
The Alto Adige/Sudtirol region of Italy borders Switzerland to the northwest and Austria to the north. It is alpine, defined by the Dolomite mountains, but named after the Adige river that cuts a valley. Compared to the Alps, the Dolomites are only of moderate height, but are nonetheless striking. A UNESCO World Heritage site, the jagged, pale peaks are softened by the rolling hills that line the valley.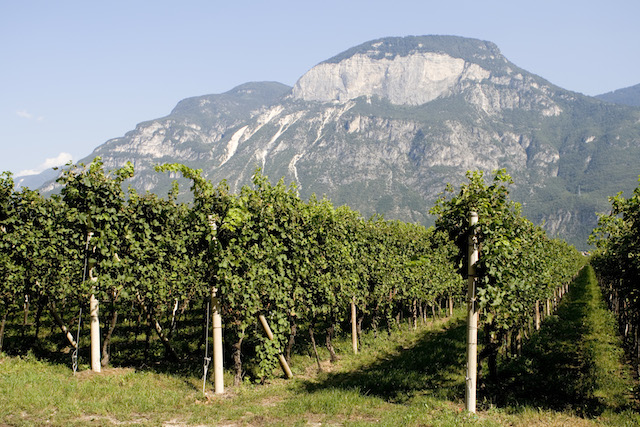 The Dolomites dissected by the Adige form a sort of south-facing, vast amphitheater with vineyards occupying the gallery. Lots of sun (allegedly more than 300 days per year-let's go!) and wide day-to-night temperature swings create wonderful conditions for grapes to ripen but not develop too much sugar at the expense of acidity.
Alto Adige/Suditrol is one of Italy's smaller wine regions, with only 13,000 acres of vines planted yielding less than 1% of Italy's wine production. The Institute of Masters of Wine reports that only 30% of the wine is produced by independent growers, while the rest is produced by large coops.
Castelfeder is a 3rd-generation, family-run winery. Their wines, like their family members, have lots of personality. We have selected the two below as wines most popular at the AIDS Project tasting and therefore by our customers. It is perfect timing that they will also pair beautifully at the Thanksgiving table.
Castelfeder, Muller Thurgau, "Gassner," Alto Adige/Sudtirol, 2013– $19.99
Muller Thurgau is German hybrid related to Riesling, Pinot and Schiava. The Castelfeder Muller exhibits a pretty nose with green hues of fresh herbs (parsley and mint) and lime zest. Medium-bodied, with flavors consistent with the aromas, the wine finishes with salinity and bright acidity.
The Castelfeder Muller should pair brilliantly with appetizers like feta or goat cheese marinated with a good extra olive oil, fresh herbs (I plan to use oregano, thyme and rosemary), lemon zest and maybe some capers. Whatever you are preparing that combines briny, citrus, and salinity will be enhanced by this wine. It is a great wine to join you in the kitchen as you prepare the meal; it is flavorful, but lower-alcohol and frisky acidity. It is a great wine to keep the conversation and energy flowing!
Castelfeder, Schiava/Vernatsch, "Breitbacher," Alto Adige/Sudtirol, 2012– $17.99
The area in which Castelfeder is located, Alto Adige, is also known as the Sudtirol from its historical inclusion as part of the Austro-Hungarian Empire. Most residents are bilingual, speaking both German and Italian so, not surprisingly, this grape variety goes by Vernatsch in German or Schiava in Italian. Regardless of which name you select, you will find some lovely blue-ochre overtones, including blueberries, dried cranberries and cherries, violets and something ever-so-slightly burnt-sugar.
We think that this wine will pair wonderfully at the Thanksgiving table. It will not overwhelm the turkey, but will compliment the cranberries, sweet potatoes, other root vegetables and savory stuffing. We hope that you enjoy the Schiava as much as we do. Below is an image of the vineyard from which these grapes come.