One of the things that I so love about wine is the discovery process. There are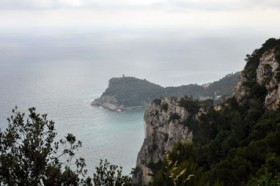 always new wines to explore as importers extend their reach and bring more wines into the country. While this wine is "new" to me, there is little new about it. The Ruffino family that owns the estate has tended vineyards in this tiny village  of Varigotti for more than 500 years, accumulating knowledge of place, from soil and native varieties, to building the stone walls that give form to the terraces on the promontory extending into the Mediterranean.
Lumassina is one of the varieties native to Liguria, grown almost exclusively in the province of Savona in which Varigotti is located. Because it is late ripening and hard to cultivate, it would be extinct but for a few families like the Ruffinos who continue to work with it. Two of their eleven hectares of vineyards are planted with Lumassina. The label playfully depicts a snail, both because the name likely derives from  "lumasse" which means snail in the local dialect and because it traditionally has been paired with snails.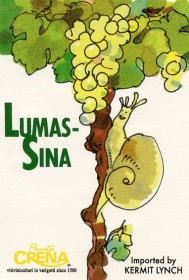 Lately, this has been one of my favorite whites. It has a fragrant nose that is floral and freshly green, reminds me just a bit of tarragon. On entry, there is a light spritz, not as noticeable as a Vino Verde, then a rich, lemon-grassy flavor is followed by crisp grapefruit and almonds on the long finish. There is a huge amount of flavor for the light, 11% alcohol of this wine.  I would pair this with some lovely goat cheese from Vermont Creamery; you might marinate that in some good extra virgin olive oil packed with fresh herbs, including tarragon. It would also go well with some lemony hummus and those now ubiquitous cucumbers or just do what we do and enjoy it on its own on a glorious late summer evening.
Producer: Punta Crena
Country, Region: Italy, Liguria
Grape: Lumassina
Price: $16.99
If you like this wine, try: Arco Nova, Vino Verde; Claudio Vio, Pigato