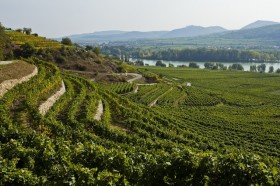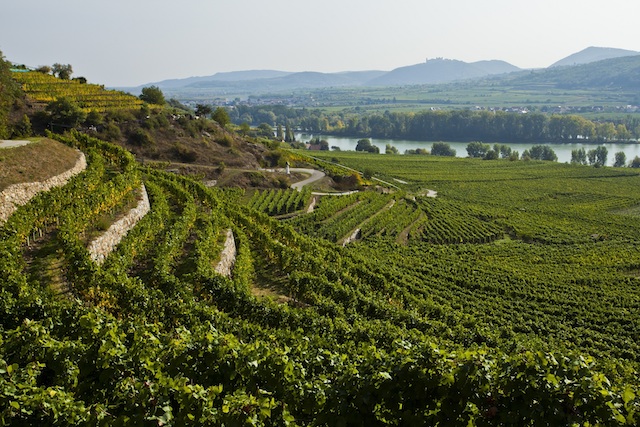 We've chosen a Gruner Veltliner as our "pick of the week" in anticipation of our informal "new vintage" Austrian whites tasting on Wednesday, June 25th.  The Tegernseerhof T-26, 2013 is a real beauty. There is a lot to "unpack" here, but I promised my brother that I would work toward "more pictures, fewer words," so here goes.
I enjoyed this new vintage while in Austria in late March visiting, among others, Tegernseerhof. This is their entry-level Gruner than ripens first, because it is the lowest of their vineyards, essentially on the valley floor as the Danube cuts through the low but steep hills of the Wachau. The 2013 is a different wine from the 2012 (maybe we'll do these side-by-side at Wednesday's tasting so that you can see for yourselves) — much more minerally and lighter bodied.
Here are my notes from that beautiful day in the Wachau (sunny and 70 there and, well, you remember March in Vermont this past year).
Much more mineral, lighter-bodied than the 2012. Like the Terrassen Riesling, this is a completely different wine than the previous vintage. The palate is somewhat underwhelming, then the finish is crisp and long and zingy, all green apple, water cress and white pepper. The spiciness on the finish leaves my lips tingling. Chinese, especially eggrolls or other fried foods (Samosa with cilantro relish?), taboule, lemony hummus, might even work with stuffed grape leaves, so maybe a starter wine for a Lebanese dinner that opens with a mezze platter?
And, so that you can see that is was not hyperbole but truly a lovely day, a picture of the FrauenWeingarten vineyard, taken above it from the Loibenberg Vineyard on that lovely day in late March.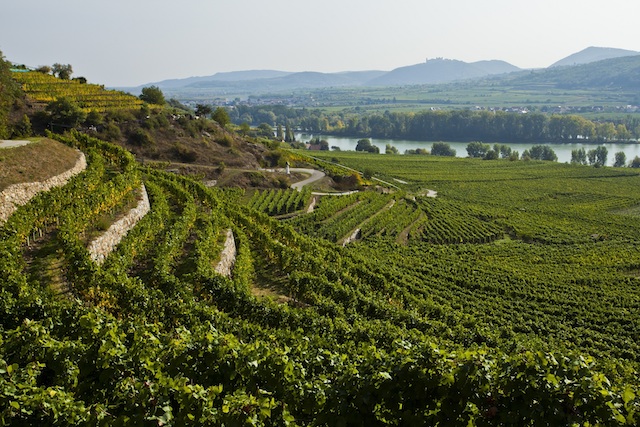 The owner/winemaker at Tegernseerhof is the young Martin Mittelbach. Martin is a gifted and passionate vine-tender. He believes that the wines are "alive," and that they convey a tension that gives them the energy so apparent in his wines. Martin has a relationship with his vines, vineyards and wine that goes well beyond his years. Listening to him talk about the vineyard, the vintage and the wine, it is clear that there is a deep respect for place, that he really cares that the vines be matched to their place, and that the resultant wine has an identity that reflects the combination of the place and vines.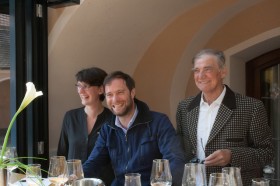 We have had the opportunity to taste with a number of different owners/vignerons/winemakers. While most of them know their vineyards and cellar, I don't often hear that other element that I hear when Martin talks about his wines. I think it must just be part of his DNA. He is the 5th generation in his family to lead the winery. Here is a picture of Martin with his father and sister, on the patio of their estate where we enjoyed their hospitality and their beautiful wines.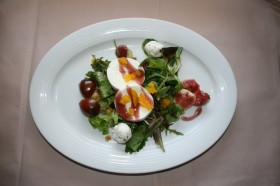 One more picture, to honor at least part of my brother's request — more pictures, if not fewer words. The Mittelbachs were terrific hosts. After tasting through several wines, pouring the 2011 and 2012 vintages side-by-side, they then produced a terrific meal with several of their wines paired with the various courses. Here is seriously good salad with arugula, goat cheese and figs that we devoured with the beautiful Steinertal Riesling, 2012. It is a good life.