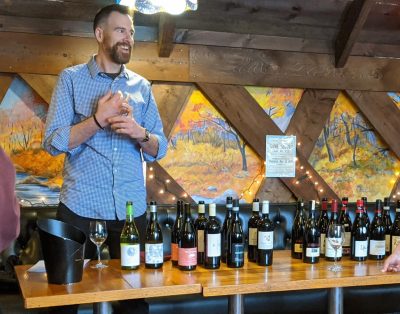 We had a wonderful celebration of the end of January with our organic-biodynamic-natural wines tasting on February 1st at New England House. The images above capture some of that fun. For those looking for a lively, beautiful sparkling to share with your valentine, we can recommend the Cerra la Barca, Vegas Altas, Petillant Natural, which was a favorite wine among the 44 tasters.
The tasting calendar is filled out (more below, but here are the barebones):
It's that time of year when Eric Asimov releases his 20 Under $20 winter. We appreciate Asimov's effort to sample and recommend affordable wines. We have learned that many are not available in Vermont, and some that are here may exceed the $20 ceiling. For these reasons, we follow his list with our own, filled with wines that we love, that our customers enjoy, that we know are available in Vermont for $20 or under.
This year's list from Asimov comes with the warning that if Trump's threat of a 100% tariff on EU wines is more than the usual bombast, several wines will fall off the list. We are experiencing some of the impact of the initial tariff of 25% applied in October to French, German and Spanish wines under 14%. In addition to higher prices, we are also subjected to supply shortages as importers postponed orders hoping that the tax on imports might be lifted, but also because they are fearful that a new, higher tax might be announced at any time. While business is always a risk, if it is known that there is a stated threat of costs doubling instantaneously, particularly when that threat has been made credible by a recent unanticipated tax, it is not surprising that importers are exercising greater risk adversity.
Our list of 20 Under $20, like Asimov's, comes with the caveat "while supplies last at these prices." As we made the list, we bought the wines so that we could keep the price where it was expected. Some of the wines were already in short supply as importers held off reordering (we have the final 6 bottles for one wine, and 8 bottles for another). Also like Asimov's list, our list of 20 Under $20 includes some wines from countries not targeted by tariffs– Argentina, Uruguay, South Africa, Lebanon and, of course, the US.
Despite the uncertain economic waters, Windham Wines remains committed to searching out wines that we believe have value to you. Our goal is to provide you with a selection of wines that you find satisfying, and with service that reflects how much we value your support. You are our raison d'etre. Thank you.