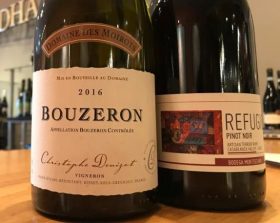 In January, Dave McIntyre, who writes the wine column for the Washington Post, observed that though the range of places where we can buy and enjoy wine has expanded, our buying habits may be having the "ironic effect of narrowing our choices" (McIntyre, 25 January 2019). From movie theaters and Starbucks, to some Taco Bells and even Burger Kings, every place wants a piece of the wine and beer market. Meanwhile, the large retail chains, e.g., Costco, Trader Joes and Walmart, are expanding their private label offerings. To supply these venues at the volume needed for national outlets requires larger production, hurting small, family-run wineries and independent wine retailers and in effect, "further strengthening the seven wineries that produce about 60 percent of all US wines" (McIntyre).
One thing about scale is that it does generally reduce cost per unit. Eric Asimov has written about this each time he releases his "20 Under $20" list, which he does twice a year. He has long been on a crusade to promote affordable wines of interest and while he acknowledges that there are plenty of wines in the $10 range that are perfectly serviceable, they will not be particularly "distinctive or interesting." Finding those dimensions, per Asimov, means spending a "little more money for a lot more wine" (NYT, 08 February 2019).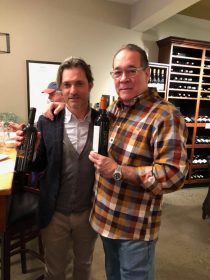 Not surprisingly, inexpensive wines are generally able to be so cheap because of scale economies, automation and manipulations that effectively constitute recipes for particular flavors and mouthfeels. In contrast, wines that offer character are typically much smaller scale production, usually family-owned and family-worked, including hand-picking grapes and vinifying them in traditional ways in their own cellars. Given that, "the question is not 'Why are they so expensive?' It is 'Why don't they cost more?' That's a pretty good definition of value" (Asimov).
Though we carry some of the wines on Asimov's latest list, many are not available in Vermont while some are available but are more expensive. As we have occasionally done in the past, we have constructed our own list, this time 22 Under $22 to accommodate 3 wines that we love but are each $22. Both sparklings on the list are $22. While we love sparkling, very rarely do we find a sparkling under $20 with any elegance or gentleness. Those properties take time, and time, after all, is money.
On a related note, here another good article identifying ten lesser known Italian varieties that "should be on your radar." Windham Wines carries seven of those. Come in to expand your wine journey.
You'll find a filled-out tasting calendar for the upcoming months here on our web site. One exciting event we've added is a tasting with a Master Sommelier, Robert Jones. If you've watched the documentary Somm or read Bianca Bosker's Cork Dork, you will want to attend this unique tasting. Robert will share tips on how to taste wine and how to pair wine and food. Check the tasting calendar below for details.
We look forward to seeing you soon in the shop.