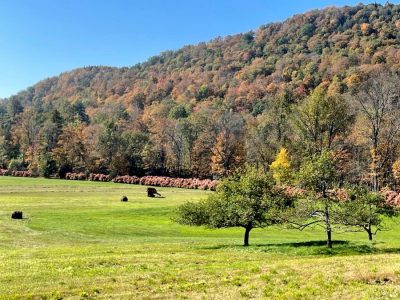 It is hard to believe that summer is over and yet the autumnal equinox is behind us and we are now 3 weeks into fall. If ever there was a year to query where summer went, it is 2023. But fall is here, like it or not, and Windham Wines has a selection wines for fall perfectly calibrated to the fresh new season — scroll down to read tasting notes for all our faves for Fall 2023.
There have been many changes since we last communicated in late April. One of the sadder changes includes the announcement that Sam's will be closing. I sometimes feel like a shill for the "buy indie, support local" campaign and yet, . . . it is a practice that strengthens our independent, locally-owned and operated businesses and reinforces our connections to each other. Where you spend your money matters. When Frank or I choose to get a cup of coffee from Patio Coffee or to buy Parish Hill cheeses or shop at Everyone's Books, we visit with Cory, have a conversation with Rachel and Peter, and chat with Nancy or Clea; it is a personal connection. We are spending our dollars with people who live here and they in turn spend those dollars with other local businesses, owned by other residents of our broader community. And so it goes, . . . the money reverberates throughout the local economy, supporting people we know who help create the community we chose.
We appreciate your support when you shop at Windham Wines. Not only do we circulate those dollars back into the local economy, we also provide a market for more family-owned and operated wineries from Vermont to Croatia. When you buy a bottle of wine from Windham Wines, you are helping to support these families embedded in their local economies.
Some happy news for many of you is the occasional return of fresh seafood to the Black Mountain Square plaza. Community Dock is a mobile seafood market owned by Lynn and Maria Stayaart. Lynn owns the Honeywilya, a salmon troller ported in Southeast Alaska where Lynn spends 5- 6 months a year fishing from Ketchikan to Yakutat. Lynn and his small crew actually fish the ocean with lines, not nets, catching one fish at a time, which allows them to clean them immediately (and therefore have a purer flavor) before flash freezing them and sending them home to Maria in Duxbury, VT. Community Dock will slip into Black Mountain Square on the first and third Thursdays from now through December, from 3:00-6:00. We would be delighted to help you pair a wine with your dinner.
The team continued its tasting over the summer. One of our distributors is bringing in lots of east European wines, from Slovenia to Croatia and Hungary. We have some of those to recommend. South Africa is also making a comeback, though Graham Beck and Waterkloof are still not available to us. We also have some lively, interesting and delicious domestic wines to share with you. We are happy to put together a sampler 6-pack or case for you that includes a 5% discount for 6-11 bottles and a 10% discount for 12+ bottles.
Thank you for your continued support. We look forward to seeing you soon.
Be well, customer-friends.
Read on for picks for Fall 2023 below.
— Wines for Fall —
White Wines
Voštinic´-Blasnič, Ikons, Moslavina
Croatia, 2021: $16, organic
50% Skrlet, 50% Graševina
The grape Skrlet orginates in and so far is confined to the Moslavina region of Croatia. Jancis Robinson describes it as a "delicate, fresh Croatian variety enjoying a new lease on life." Even so, there are still only about 100 hectares of Skrlet in Croatia.
Graševina, in contrast, is Croatia's most widely planted wine grape. It is known as Welschriesling in Austria and Germany, though it is thought to be indigenous to Croatia.
The tasting team had some fun discussion around our experience with this wine. Aromas included hops, pineapple and mango on the nose. The palate had flavors of smoke, tropical fruit and something herbal. It was both slightly unctous on entry and wonderfully crisp on the finish. We thought of it as a wine that wakes up the palate and pairs nicely with young cheeses, sushi and pesto.
Avondale, Jonty's Ducks Pekin White
Paarl, South Africa, 2020: $18
biodynamic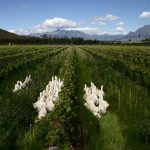 Chenin Blanc, Roussanne, Viognier, Semillon
Boy does this blend work! The team got rich, ripe fruit on both the nose and palate, from pineapple and apricot to fig, lots of spiciness and just a soupçon of honey. There is a lot of concentration, yet at only 13%, there is plenty of lively acidity to provide a clean finish.
Johnathan Grieve, aka "Jonty," Avondale's owner who orchestrated the move to biodynamics, uses what he refers to as a posse of Pekin ducks to control the snail infestation at Avondale. Here is a fun video of the pest, the ducks and their special transport, the duck mobile.
Pikasi, Rebula
Vipava Valley, Slovenia, 2021: $17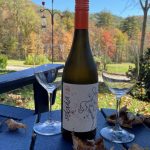 100% Rebula is known as Ribolla Gialla just across the border in the Friuli area above Trieste. This is a tiptoe into orange wines, i.e., white wines that spend time in contact with their skins to extract greater flavor and even a bit of tannin. The Pikasi, Rebula spends 3 days on its skins, giving it a more decidedly apple flavor, but more baked than cider. There is also a nice herbal note (thyme), and an almond and spicy finish.
— Red Wines —
Les Lunes, Cosmic Red Blend
California, 2022: $22, practicing organic
50% Cabernet Sauvignon, 19% Zinfandel, 14% Pinot Gris, 11% Merlot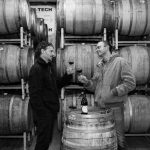 How is that for a wild blend? The thing is, it works! Shaunt Oungoulian and Diego Roig, friends and business partners, playfully experimented and produced this oddball that has evoked comments at the two dinners at which I served it.
Aromas include dried cranberry, slate and eucalyptus. Light-bodied on the palate, but nonetheless concentrated dark, dried fruit (cherry and raisin) with a beguiling minerality on the finish. A big hit.
Pasji Rep, Pinot Noir
Vipava Valley, Slovenia, 2020 : $30
biodynamic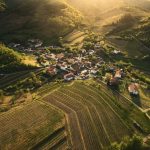 This is my new favorite Pinot Noir. I have been taking it to dinners when we are invited and it always receives lots of positive attention. Aromas of pomegranate and red currant, bay leaf and peat. In the mouth, it is medium-plus weight with flavors of dried cranberry, raspberry and tons of spice, from pepper to clove. There is a bit of peat and a beautifully integrated acidity that gives it a elegant, lifted finish.
Vaimaki Family, Popolka, "Kokkineli"
Amyndeo (Macedonia), 2021: $22
organic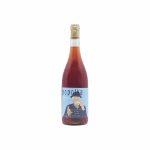 Xinomavro is an indigenous Greek grape also called Popolka in the Amyndeo region of Macedonia where the Vaimaki family focus on making 100% Xinomavro, zero sulfur wines. The Kokkeneli is oenologist Vasilis Vaimakis homage to traditional lighter-style Xinomavro (kokkeneli)– only 2 days of juice macerating with the skins, ambient-yeast fermentation, no fining or filtering, zero sulfites added– a classic natural wine.
Lots of strawberry fruit and little tannin since skin contact was limited. Still a nice flinty, minerally, fresh finish.