We are very excited about this list of winter favorites for $20 or under. We tasted throughout the fall, selecting wines for the season as we shifted the shop's focus from the lighter whites and rosés of summer to the fuller-bodied whites, sparklings and especially reds of colder, darker months.
As we mentioned in the summer when we released our summer list, we are following the lead of New York Times wine writer, Eric Asimov, who develops his list each summer and winter. Since many of those wines are either not available to us or are priced differently, we decided to create our own list, based on wines that we know are here and qualify. We taste as a team, with at least two of us trying the wines and sharing our impressions, but often 3-4 of us tasting together.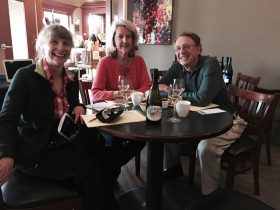 The list below is a reflection of that valued input. In writing up our descriptions, I've had help from Frank Larkin, whose write-ups are credited below.
Sparkling
Domaine aux Loups, Triple Zero, Montlouis– $19.99 (Organic; vegetarian/vegan)
This wine typifies the rest of the list—it is unusual and delicious. Made from Chenin Blanc, this is a gorgeous, rich, creamy sparkling wine. It reminded me of membrillo (quince paste); one of the other tasters got some toffee notes. We all landed on blood orange and apricot. Doesn't that sound like an ideal winter sparkler?
Owner/vigneron Jacky Blot owns 25 hectares in Montlouis, across the Loire River from Vouvray. He is a strong believer in the "wine is made in the vineyard" approach. He farms organically (certified), eschews chapitalization (a process that allows for the addition of a sugar derivation to increase the sweetness of the resulting wine) by instead harvesting later to ensure the berries' sugar content and ripeness. In the cellar, he relies on natural yeasts and slow fermentations (a minimum of 6 months). Remarkably, given the creaminess of this wine, he does not allow the wine to undergo malolactic fermentation (the process in which the brighter, more pronounced malic acids of the grapes are converted into softer, smoother lactic acids).
The bubbles in the Triple Zero are derived via Méthode Ancestral, according to which the wine is bottled before it has fully fermented. The wine completes fermentation in the bottle, producing gas as the yeast converts the remaining sugar to alcohol. There is less pressure generated in the Méthode Ancestral than in the Méthode Traditional, so the bubbles are softer, less energetic than those of Champagne. This is a great style of sparkling for those who don't love the friskiness of Champagne or even Prosecco.
We enjoyed the Taille aux Loups Triple Zero as a starter with Manchego and, of course, quince paste. It was brilliant. If you would like to pair it at the table, something along the lines of Duck a l'Orange or a Moroccan Tagine with cumin, cardamom, ginger, preserved lemons and whatever veg (butternut squash, tomatoes), fruit (dates, raisins, apricots) or meat (lamb, chicken) you want to include.
White
Achados e Perdidos, Branco, Codega do Larinho, Douro, 2014– $13.99 (Organic)
This has been such a treat to discover. "Achados e Perdidos" means lost and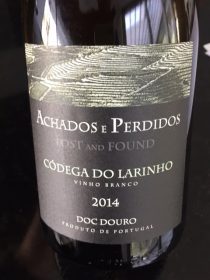 found in Portuguese. The grape, Codega do Larinho, is planted almost exclusively in northeastern Portugal and even there, only in small quantities.
Chris Campbell, the importer, "found" the wine through two of his friends who manage the vineyards for the owner/winemaker. They were walking the vineyard with the owner one day, and asked about this particular lot. It is grown in black schist soils and drew their attention because the vines are clearly very old. They are head-pruned, which means that they are not trellised but are pruned hard each spring. The age was evident from the circumference of the vines, which looked more like stunted tree trunks. The farmer said that he did not know what the grape was, only that it was a white variety and he just blended it in with his red.
That spurred their curiosity. They persuaded the owner/winemaker to make wine from this lot, and the result is this bottle. Its aromatics include peach and melon, though what made us fall in love with it is the terrific minerality with which the wine finishes.
We've enjoyed this wine on its own. It ought to pair nicely with Indian and Thai food. Given its proximity to Spain, it also brings to mind paella.
Fibbiano, Fonte delle Donne, Toscana, 2012– $17.99 (organic)
50% Vermentino, 50% Colombana
Fonte delle Donne, translates as "Source of Women." I am so glad that with a name like that, we really love this wine. The Cantoni family purchased Fattoria Fibbiano in 1997, part of a move to leave behind the noise and alienation of the city, returning to their farming roots, to "be in contact with the earth and things purest" (I love the way these websites get translated).
Fattoria Fibbiano is a property that includes a farmhouse, the bones of which date back to 1300 but were expanded during the 1700s. What really sold the Cantonis was not the resources that it would take to restore that structure, but the 125 year old pre-phylloxera vineyard that was the heart of the Fattoria. Restoring the farmhouse, and shifting to organic production in the vineyards, olive grove and other arable land is part of their commitment to be in contact with "things purest.
The Cantonis are stalwart in their belief that indigenous or native varieties should be championed in Tuscan wines. Since the inception of "super-Tuscans" fifty years ago, international varieties have rivaled and even supplanted indigenous ones. The philosophy at Fibbiano is that to give voice to the territory, the terroir, requires the use of native vineyards. "Mother plants" were selected from their 100+ year old vineyard to generate new vineyards. Fattoria Fibbiano produces red wines from Sangiovese, Canaiolo, Ciliegiolo, and Colorino, while their sole white, the Fonte delle Donne, is made from Vermentino and Colombana.
Vermentino is a variety planted in Tuscany, Sardinia, Liguria and Piedmont. Many of you have heard me profess my love affair with this variety in the past couple of years. I love its ripe fruitiness that gets wonderfully replaced by salinity and acidity on the finish. Colombana, on the other hand, was entirely new to me. When he visited us at Windham Wines, Matteo Cantoni allowed that it is a variety that is used for Vin Santo, with rich, nutty flavors and low acidity. To preserve its freshness, it is harvested in the early morning and taken directly in to the winery to press, after which dry ice is introduced to the tank to lower the temperature. The lower temperature allows for a slower fermentation and therefore greater extraction. Concurrently, a layer of CO2 from the dry ice acts as a barrier between the fermenting juice and the air, preventing oxidation.
We have had great success with the Fonte delle Donne since we began carrying it a year and a half ago. Customers with a broad range of palates include it in their regular rotation. It has rich, ripe fruit flavors of pear and peach, then some Nutella creamy nuttiness. At the table, it would be comfortable with scallops, shrimp or lobster, roasted chicken, honey or Apricot Brandy glazed ham, fish or vegetarian paella or a tagine with cauliflower, potatoes, carrots, acorn or butternut squash, cashews, and a healthy dollop of fresh ginger and turmeric.
Le Monde, Friulano, Friuli, 2014– $15.99
The 20 Under $20, Winter 2016-2017 list contains a number of wines made from more unusual grapes. These wines are always around, but not always good representatives of their possibilities at the price point that we've set as the limit. Friulano is a grape and corresponding wine served throughout Friuli-Venezia Giulia, the easternmost province of northern Italy that abuts Slovenia along the Adriatic Sea.
Friuli Grave, Friuli-Venezeia Giulia's (FVG) largest wine region, accounts for more than half of FVG's wine production. It is essentially a large agricultural plain, where large is relative to FVG being one of Italy's smallest states. Le Monde lies within Friuli Grave, which is the principal reason that this wine is so affordable. Founded in 1970, then purchased in 2008 by the Maccan family, Le Monde farms 50 hectares of vineyards focusing on varieties indigenous to FVG: Pinot Grigio, Pinot Bianco, Friulano, Ribolla Gialla, Cabernet Franc and Refosco. Three of LeMonde's 50 hectares were planted to Friuli in 1980.
Upon acquiring Le Monde, the Maccan family tasked young Alex to achieve the objective of raising the quality of the wine to its potential. Agricultural practices have been shifted to privilege the health of the soil, including planting barriers of tree lines to help protect Le Monde vineyards from neighbors who may not share the Maccan's environmental sensitivities. At harvest, grapes are kept on dry ice en route from the vineyards to the cellar. In the cellar, they are placed in stainless steel tanks filled with nitrogen, a process that Alex has found reduces the need for sulfur during bottling. Fermentations are done at lower temperatures to increase their duration and therefore bring out the aromatics. The focus from harvest to bottling is to ensure freshness and balance.
Stylistically, the Le Monde Friulano is on the lighter-crisper end of the spectrum. We've tasted many that are fuller-bodied with a more pronounced bitter finish, but the Le Monde is true to the Meyer lemon, thyme, sage and slightly nutty aromas and flavors; there is less pear on the Le Monde than on fuller-bodied Friulis that might come from closer to the coast.
Food pairings with the Le Monde are fairly diverse. Its crispness is a nice contrast with the richness of prosciutto, while the herbal flavors can be picked up by dishes flavored with basil or cilantro, from a Thai Chicken to halibut with pesto, adding some lemon zest to the latter to increase the tartness. As vegetarians, we are happy to pair this with a simple soup or pasta with white beans, sage and lemon—topped with some salty Parmigiano, of course.
Arcan, Albarino, Rias Baixas, 2014– $18.99 (Organic)
I wrote before about our two-year effort to find an Albarino that we felt represented well the potential of the variety. Lucky for us, Chris Campbell of C & P Imports brought this by and we were smitten. It has the salty-briny nose we wanted, along with citrus flavors (lime to orange) and wonderful minerality on the finish. Though it is relatively light-bodied, it picks up some roundness on the palate as it warms up in the glass.
The owners, the Pombal family, are mussel farmers. They made this wine to serve with mussels at their restaurant. I am sure that Adams Seafood could accommodate you for mussels or clams. Of course you'll need some crispy, fried potatoes too or, if you harvested basil and stocked up on pesto, how about a nice side of a pesto tossed with a hardy pasta like penne or something twisted like fussili or gemelli?
Tegernseerhof, "Terrassen," Riesling, Federspiel, Wachau, 2015– $19.99 (note below written by Frank Larkin)
Martin Mittelbach represents the 5th generation in his family to run Tegernseerhof, an estate that started over 1000 years ago. Located in the Wachau, arguably the most prestigious wine-growing region in Austria, its vineyards consistently produce world class wine– dry and steely.
Martin is a Wachau insider with an outsider's perspective, preferring to produce a drier style of wine than his father. The grapes are harvested and sorted vigorously to remove any botrytis grapes, and then vinified and raised in stainless steel.
The 2015 Riesling, Terrassen, Federspiel (wine between 11.5 and 12.5 % alcohol) is a great example of Martin's efforts. Crisp, minerally and acidic, it's a very versatile, food friendly wine that pairs well with a variety of food from barbecued ribs and shellfish to salad. Needless to say, it's also terrific on its own.
Rosé
Gobelsburg, Cistercien, Neiderosreich, Rosé, 2015– $15.99
This is one of the trends to which our customers alerted us last year—you want some rosé available year-round. We feel fortunate that we put away a few cases to accommodate that demand since much of what is left with our distributors is either fairly pricey or frankly, not very quaffable.
Gobelsburg is located in the Kamptal region of Lower Austria . Only wines made from Gruner Veltliner or Riesling can claim the designation "Kamptal;" consequently this wine, while made from grapes all from the estate in Kamptal, must nonetheless be labeled Niederosterreich since it is a blend of three of Austria's red varieties. Not surprisingly, only 20% of the 49 hectares of vines are planted to red varieties. Grapes from the cooler sites of these vineyards are used for the rosé.
The Gobelsburg Cistercien is a blend of Zweigelt, Saint Laurent and Pinot Noir. It presents a beautiful pale orange, almost onion-skin hue with aromas of ripe strawberries and minerality. On the palate, there is lots of fruit, juicy strawberry and tart blueberry, no sweetness, but plenty of acidity to carry the minerality to a long finish.
This wine will make a great accompaniment as you prepare your dinner. It will also enhance lighter meals of sole, halibut or cod. We recently made a rice-based salad inspired by Mark Bittman with cannellini beans, dill, lemon juice and zest and grape tomatoes. I wish I'd had a glass of this at the table.
Red
Poggerino, "Il Labirinto", IGT, Toscana, 2013– $17.99 (organic)
This pretty Sangiovese comes to us from a family-owned winery in Radda in Chianti. The brother-sister duo, Piero and Benedetta Lanza , share responsibility for the 43 hectare property that includes vineyards, an olive grove, woods, a large vegetable garden, the winery and a small inn with a restaurant. Benedetta runs the inn and manages the vegetable garden. Piero is "all wine."
Twelve of the property's 43 hectares are planted to vines, including 11 hectares of Sangiovese and 1 of Merlot. Piero describes the vineyards as "human-sized," in that it allows him personally to manage and work the vineyards and, importantly, "to speak to my vines." Total production at the estate is under 6000 cases.
Piero is passionate about the health of the vineyards as the key to producing good wine. He writes that "[w]e believe in respecting the land we cultivate. . . . Respecting the earth to us means working to stimulate and increase its biodiversity, biological activity and cycles. The soil is a complex environment , . . . it is our responsibility to increase the biological vitality of the soil, its structure and mineral components in that all these contribute to a natural balance in the vineyard, thereby producing grapes of an excellent quality and expressing terroir." To this end, Poggerino does not use pesticides, herbicides, or chemical fertilizers. They have achieved organic certification and are now working biodynamically.
Poggerino's Il Labirinto is 100% Sangiovese from young vines. One of the things that we really liked about this wine was not that it was deeply complex, but that it was just so sangiovese—cherry and blueberry fruit on entry, leather and herbs on the mid-palate and some acidity on the finish. No oak, aged in cement, meant to be enjoyed young. It will go with all those Italian dishes for which you did not want to start the oven in the summer—pasta with roasted butternut squash, fried sage and a good, aged parmigiana, spinach lasagna or eggplant parmigiana. It should also pair nicely with mushroom stroganoff or a pasta with a puttanesca sauce.
La Varenne,"Tradition," Chinon, 2013– $19.99
Chinon is an appellation in the Loire Valley that, like its neighbor Bourgueil, specializes in Cabernet Franc, a grape that remains undervalued, so let's not bring too much attention to this well-made example. In 2014, Eric Asimov wrote that Loire reds, particularly Chinon and Bourgueil, "offer a reasonably priced chance to seek out easy drinking and intellectually stimulating, soul-satisfying pleasures."
The Loire is France's longest river, beginning in the Massif Central only 85 miles north of the Mediterranean, threading its way over 600 miles to the Atlantic. It flows north until Orleans, after which it curves west and heads to the sea. That section of the river is magnificent. Easily reached from Paris, it is dotted with famous castles (Chenonceau, Chambord, Azay-le-Rideau) and jaw-droppingly beautiful sculpted gardens like those at Villandry.
In addition to castles and gardens, the valley created along that westward route is rich with well-known wine appellations, from Pouilly-Fumé and Sancerre in the far east to Muscadet at the estuary where the Loire empties into the Atlantic. All but the middle section of that is better known for white wines. The middle Loire Valley is drier and warms up a bit more consistently, enabling red grapes with shorter growing seasons, like Cab Franc, an opportunity to ripen. Chinon and Bourgeuil are located in the Middle Loire Valley.
The Gouron brothers , Laurent and Stephane, are the fifth generation to produce wine at their estate. They farm 31 hectares, all of which are planted to Cab Franc. The "Tradition" is their entry-level and biggest production wine, with 3500 cases made. It comes from lower elevation vineyards planted in more alluvial soils and sandy-limestone hilltop soils that yield more approachable wines that can be enjoyed young.
Cabernet Franc, along with Sauvignon Blanc, is parent to Cabernet Sauvignon. You will find similarities in the darker fruit aromas and flavors (more red and black currant) as well as the hint of something green. When sufficiently ripe, that green is more resin than vegetal. It also can show something enticingly mineral in a red wine.
The La Varenne "Tradition" is a great introduction to Loire Cabernet Franc. Fermented and aged in stainless steel, it is the Gouron's wine to drink young. It is very aromatic, with fruit flavors of woodland berries and pomegranate, along with that darker resin base and a high note of graphite. The cuisine of the area is fairly rich, even when the meat is lean the sauce is creamy and buttery. The acidity of Cabernet Franc is a terrific knife to cut through these dishes.
Negro Lorenzo, Barbera d'Alba, 2013– $18.99         
There are three things about this wine that made me pull it for the tasting team to sample. One, it is made from Barbera, one of Piedmont's reds that can be charmingly easy to enjoy; two, it is from the Roero, a much lesser known region across the Tanaro river from Barbaresco; and three, I'd never heard of the winery, so it was a tabula rasa for expectations.
Let's start with the Roero, an area in Piedmont, north of Barolo/Barbaresco, composed of smaller, lesser known producers who also make the usual suspects of Piedmont—Nebbiolo, Dolcetto, Barbera, as well as the white, Arneis. This area of the Langhe was once submerged under the ocean. The soils are diverse, even within any given estate. They are sandy in areas, often dissected by veins of silty soils composed of shells, marine fossils and clay. There is a decided difference in the flavors of the wines from the Roero—lighter, more elegant, with a vein of minerality in both reds and whites.
Nebbiolo is king of the red wines of Piedmont and frankly, perhaps all of Italy. Consequently, the "other" red wines of Piedmont are not just overshadowed but often dismissed as pedestrian. That can be good news for us plebians who just want a wine that tastes good without ransoming our future. The quality-to-price ratio can frequently be maximized in these secondary varieties, especially when coming from off the beaten path wine regions. Our customers are not plebians. They have discovered the potential value of Barberas because so many of our customers are wine-curious.
Negro Lorenzo is the third generation to work these vineyards on the family farm in the Roero. The young Lorenzo, who is the first generation to work under his own label, is a diligent vine-tender and cellar master who cares deeply about the integrity of his wines. "My name is on the label, so this wine represents everything that I stand for."
Negro Lorenzo's Barbera is a great introduction to those for whom Barbera is a new direction. It should also provide interest and satisfaction to those more familiar with its expressions from the other side of the river. Aged in stainless steel, it is a paean to the purity of Barbera from the Roero. Fresh, ripe strawberries and blackberries, a bit of anise, and a lovely minerality carried by some characteristic acidity on the finish make this a red that can be enjoyed as a first glass or happily attend the table. We like this with anything surrounded by caramelized root vegetables or with dishes that include blue cheese.
Saint Cosme, Cotes du Rhone, 2015– $15.99
The only 2015 red to make the list, Saint Cosme has done it again. This wine has earned an endowed position at Windham Wines. Over 7 vintages, we have never been disappointed. Our customers love this wine.
Cotes du Rhone is an appellation that includes western Provence along the eastern side of the Rhone River and parts of Languedoc to the west of the Rhone. It also incorporates areas in the Northern Rhone. It is the second largest appellation in France; only Bordeaux has more hectares of vines. The rules for the Appellation du Controllée (AOC) allow a dizzying 21 different varieties of grapes, red and white. Not surprisingly, the range of flavors among Cotes du Rhones varies considerably.
Chateau du Saint Cosme is a 15 hectare estate in Gigondas that has been owned by the Barruol family since 1490. Owner/winemaker Louis Barroul is the 14th generation to make wine. While we carry those wines, the Cotes du Rhone is part of the other arm of Saint Cosme, the negociant label with wines made by Barruol from grapes purchased beyond the estate. Louis Barruol started this "negociant-vigneron" arm (buying grapes to make wine rather than buying wine already made elsewhere to sell) in 1997, based on his observation-intuition that there were many great terroirs not being represented. Here it is worth quoting Louis Barruol to capture his intentions and his personality:
My wish was to become a negociant which would work with the spirit of a vigneron using ancient methods. This was meaning: being and remaining a small producer, . . . transport my wines in casks to avoid to rack them and kill their fruit, trying to do only nice things every day. . . .
The 2015 Cotes du Rhone is not estate fruit, but is sourced from two vineyards well-known to Louis Barruol—one is owned by a childhood friend, the other by his cousins. As Barruol observes, the wine is founded on friendship and trust. While it is fairly safe to assume that a Cotes du Rhone rouge is Grenache-driven, the Saint Cosme Cotes du Rhone is, unusually, 100% Syrah. Resiny, smoky aromas and flavors underpin woodland berries (blueberries, currants, wild blackberries), earthy mushrooms and a hint of something floral. Barruol praises the 2015 as superb, the best since 2010. His 2015 Cotes du Rhone lives up to our already high expectations.
Palmento Costanza, "Mofete," Etna Rosso, 2012– $17.99
We are excited to have an Etna wine that fits the category "Under $20" and that we like well enough to include. We have been infatuated with Sicilian wine. In the past 7+ years, Sicilian imports available to us have been among the most unique and flavorful wines that we have tried
It has been only the past 5 years that we have had access to wines from Mount Etna. Etna commands respect. It peaks at nearly 11,000 feet elevation only 20 miles from the coast. You can ski Etna. And, . . . it is an active volcano, regularly venting plumes of gas and spewing up columns of ash.
Lava flows from the volcano and particulates from the myriad eruptions contribute to the unique and complex soils of Etna vineyards. These are planted largely on the north side of Etna, at elevations between 1500'-3500' in sandy volcanic black, brown and silvery soils. Until the 1930s when phylloxera struck Sicily and war disrupted agriculture, Etna supported 120,000 acres of vineyards. Currently, there are only 2500 acres of active vineyards and those represent a resurrection of the wine culture there since about 2000.
The principal red grape grown is Nerello Mascalese, prized both because it is indigenous to Etna and because it transmits the particularities of the terroir so effectively. It ripens late and, while it can achieve ripeness that results in higher alcohol (upwards of 14.5% is not uncommon), it retains its acidity producing both balance and a pronounced freshness. It's tannic, but a consistently long growing season conveys a ripe smoothness rather than a harsh edge.
Palmento Costanzo is a 7 hectare plot of older—30 to 100 years old, bush-trained (untrellised) vines in Contrada Santo Spirito, just outside of Passopisciaro on Etna's northern slopes. The Mofete Rosso is a blend of 80% Nerello Mascalese and 20% Nerello Cappuccio. It shows aromas of red berry fruit, savory herbs and an earthy, rusty vein. It is probably the power of suggestion, but for me, there is a pretty ashy undercurrent that always reminds me of cleaning the wood stove. There is a ripeness of fruit, expressed as something sweet, yet balanced by this iron-ash earthiness. Total production for the winery is under 2500 cases of red and white wines.
This is a food friendly wine. It is clearly Sicilian, so try pasta dishes with tomato, eggplant and ricotta, or with capers, black olives and tuna.
La Grave, Cahors, 2014– $15.99 (Note written by Frank Larkin)
Located in southwestern France, Cahors is the birthplace of Malbec, known there as Cot. It is often referred to as the "black wine of the southwest" per Kermit Lynch.
Hearty and full-bodied, inky and earthy, this 100% Malbec is a rarity since it is usually blended with up to 30% Merlot or Tannat. Without any Merlot to soften it, this Cahors is described by Lynch as "decidedly old-fashioned with earthy, chewy tannins to frame the ripe, juicy fruit that seems to jump out of the glass".
Winemaker Philippe Bernede is no stranger to the southwest where his family has farmed vines for many generations. His wine, not filtered or fined, is aged in wood tanks for one year before bottling. According to Kermit Lynch, you can enjoy "this rustic country charmer" anytime within the next several years, and pair it with duck or game.
Bodega Cauzon, "Cauzon," Andalucia, 2014– $19.99 (biodynamic; vegetarian/vegan)
Two great things about owning a wine shop: our customers and wine. It is such a pleasure to carry wines like the Cauzon. Ramon Savaadra is a hard-working, passionate farmer committed to making wines as naturally as possible. After 15 years as a chef in Costa Brava, including at one that earned a Michelin star, he left to pursue his true passion—wine.
After studying winemaking and apprenticing in vineyards and cellars, in 1997, Savaadra returned to his ancestral home located in the the dry, almost desert, region of eastern Andalucia. He took over the 1 hectare of vines at his family's home from which they historically made wine just for family and close friends. Over the next 15 years, he continued to add small parcels. He now farms 5.5 hectares, planted with Tempranillo, Syrah, Merlot and Cabernet Sauvignon.
To say that Ramon Savaadra loves what he does is an understatement. "I have never felt in another work as useful as I am in the field, especially because of the learning that is day-by-day transmitted by mother earth. . . . I learn what plants are able to teach me everyday, which is no small thing." Working as naturally as possible, Savaadra farms organically, relies on native yeast fermentations, does not fine or filter and does not add sulfur.
The Cauzon is tempranillo aged in used French and Hungarian oak for a year. There is nothing oaky about this wine. It has generous fruit of pomegranate and cherry with a pretty aroma of fall (dry leaves). There is something so pure, so transparent about this wine. This wine would love to join up with a charcuterie plate, particularly if you include some iberico and perhaps some blistered, salty padrfons.
Brea, Cabernet Sauvignon, 2014, $15.99 (note written by Frank Larkin)
47 year-old Chris Brockway's first job in California was to edit "really bad tv shows", not exactly a typical career path for a winemaker. After feeling the "wine itch", he pursued an oenology degree from Fresno State before moving to the Bay Area. Here's the second atypical thing – his winery, Broc Cellars, is in a warehouse on a corner in an industrial district of Berkeley. Nearby is a cement plant and a motorcycle repair shop. So much for rusticity, but, as Chris says, I'm a city guy so I wanted to make wine where I live".
In any case, if you want a delicious, juicy, affordable red wine that's great with steak, look no further than his naturally made California Cab. Collaborating with importer and wine biz vet Tim Elenteny, Brea is the real deal with organically farmed fruit from the Margarita Vineyard in Paso Robles (site of the popular Broadside Cab) and wild yeast fermentation. Weighing in at a reasonable 13.5% alcohol, its aromas include primary black fruits of currant with a touch of barrel spice and cedar. The palate has a little spice with more currant and blackberry, and some soft red fruits.
A food friendly wine with good acidity and texture, it also has a user-friendly screw cap, which is good news for non-traditionalists (and those of us who are a little clumsy).
Garzon, Tannat, Uruguay, 2013– $18.99
Located in eastern South America between Brazil and Argentina, 15 of Uruguay's 19 departments or states, produce wine. The grape, tannat, is to Uruguay what Malbec is to Argentina. It is native to the Basque region in France, on the northern slopes and valleys of the Pyrennes, migrating to Uruguay with Basque immigrants in the 1870s. It appears to have acclimated well, becoming essentially the national red grape of Uruguay, outpacing the production of Tannat in France.
Uruguay is an interesting place. In 2013, it legalized both same-sex marriage and marijuana. It has both been growing economically and reducing inequality. And it has started to develop higher quality wines, like those from Bodega Garzon.
Bodega Garzon is located only 11 miles inland from the Atlantic, in a region with a long growing season with temperatures moderated by a constant sea breeze. Avoidance of wine additives, including commercial yeasts, enables the wine to reflect the terroir of Garzon. Untoasted barrels and concrete vats allow for the expression of the "native microbiology and microorganisms."
Tannat is a deep, dark, tannic variety, though the Garzon is comparatively more elegant and fresh. It has ripe dark berry and plum fruit, some smoke and just a hint of tobacco. While it has weight on the palate and the tannins are present, they are ripe and integrated. Uruguay recently surpassed Argentina for beef consumption per capita. Botega Garzon would be welcome at a table serving beef. It would also marry well with game or other roasted meats and strong, aged cheeses.
Here is another fun fact about Tannat—it may be the best grape to consume for your heart health. Dr. Roger Corder, a cardiovascular researcher in London and author of The Red Wine Diet, argues that the correlation between red wine and longevity is a function of the concentration of oligomeric procyanidins (OPCs) in grapes. Whatever those may be, all red grapes contain them but Tannat has the highest concentration. Give a bottle of Bodega Garzon to someone's whose heart you treasure!
Grand Bois, CuvéeLes Trois Soeurs, Cotes du Rhone, 2014 (note written by Frank Larkin)
This domain in Cotes du Rhone is run by a married couple, Marc Besnareau and Mireille Farjon. As a former sommelier, Marc has an excellent palate which is very much on display with his "Trois Soeurs" (three sisters). Carignan, Grenache and Syrah is a popular blend of three dark-skinned grape varieties used extensively in Southern France. This particular offering is 65% Grenache, 15% Syrah and 20% Carignan. Its appearance is medium ruby, and the nose is sweet plum and red berries with some spice. Weighing in at 14.5%, the wine has a palate that's rich and intense with some creaminess.
Technically speaking, the wine is a real "lip smacker", and pairs well with lamb or veal.
Chacra, Amor Seco, Merlot, Patagonia, 2014– $19.99 (Organic)
Much like we searched for an Albarino that was not overly ripe and manipulated, we have been on the look-out for a brave Merlot– honest, transparent, confident that the grape can speak for itself and, as importantly, affordable. We found one, in Argentina and, not just Argentina, but in the remote Patagonia province of Rio Negro, where only 2900 hectares of vines are planted. By comparison, Mendoza supports 148,200 hectares, which is about the total area of all of Australia's vineyards.
The Rio Negro Valley, more than 600 miles south of Mendoza on the northern end of Patagonia, is essentially a 15 mile wide, 750 meter altitude plateau in the middle of a desert. The minimal rainfall of only 7" per year makes organic agriculture for wine easy. Without moisture, mildew and rot are non-issues, so no need for fungicides. The desert also does not support the usual pests that plague vines, so insecticides are also not needed. In addition, the sandy desert soils do not support the phylloxera aphid, so original rootstock (ungraphed) vines are the norm.
Bodega Chacra is a new venture, . . . sort of. In 2004, Piero Incisa della Rocchette, purchased a Pinot Noir vineyard in Rio Negro that was planted in 1932. Not so coincidentally, Piero Incisa della Rocchette is the grandson of Marchese Mario Incisa della Rocchetta, a pioneer investor/winemaker who, 50 years ago in Tuscany, challenged the hegemony of Sangiovese in Bolgheri by introducing the first Super-Tuscan, Sassicaia, made from Bordeaux varieties. His grandson, Piero, has made a name for Pinot Noir in the land of Malbec. More recently, he has added Merlot.
Chacra is a regional term, meaning farm. The health of the old vineyards has been rehabilitated through biodynamic practices that have reinvigorated the soils and added biodiversity to the farm.
We are pleased to offer the Amor Seco, Merlot. The grapes were picked by hand, fermented in cement in with indigenous yeasts then aged for 12 months in used French barrels. It is bottled without fining or filtering, and with minimum sulfur. There is fruit–red and black currant, along with some savory notes and something almost a bit meaty on the nose and palate. Though medium-bodied, there are evident but not harsh tannins present.
Luigi Bosca, Malbec, Lujan de Cuyo ,Mendoza 2013– $17.99 (notes contributed by Frank Larkin)
The winery, launched in 1901, has had four generations of the Arizu family as winemakers. Speaking of longevity, some of us who have reached 70 are all too aware that the same effort produces less than it used to. The same is true for vines. The 70 year-old vines used for this Luigi Bosca have fairly low yields but manage to produce a wine of great intensity with hints of chocolate, coffee, dark plums, black pepper spice and some smokiness (the last characteristic attributable to having aged in 100% French Oak for 18 months).
This is not only a great tasting wine, but a gorgeous one to look at with its deep red, violet hue. It also has an intriguing nose of cherries and ripe plums with hints of mocha and blackberry. Finally, it has supple tannins, which contribute to making this offering such a compelling and elegant wine. Let's hear it for the old guys!
While terrific on its own, it also pairs well with roast beef or steak.
Taburno, Fidelis, Aglianico, 2013 , $17.99
Naples, Pompeii, the Amalfi Coast and . . . Aglianico. Well, Campania may be better known for the first three than the last one, but wine explorers know that Aglianico also has the potential to impress. Aglianico is another of those Italian varieties that seems to need a particular Italian terroir to give it identity. It thrives in volcanic soils like those around Taburno (and Avellino and Mount Vulture), which impart to it a density of flavors, as well as some tannins and acidity. That combination creates the possibility to reward aging. At this point, however, Campania still produces more bulk wine, with only 7% of the wine produced there classified as DOCG.
Cantina del Taburno, is DOCG (Denominazione di Origine Controllata e Garantita), from the slopes of Mount Taburno. It is a consortium of 300 growers, each with smaller parcels that collectively add up to about 450 hectares. The coop produces 10 different wines, all from grapes indigenous to the area. One of the plots of aglianico is guesstimated to be over 200 years old, clearly pre-phylloxera, with some branches measuring an almost mythical 27 meters.
Fidelis comes from just 27 hectares. It is a blend of 90% Aglianico, 5% Merlot, and 5% Sangiovese, from 40 year-old vineyards harvested by hand. 60% of the wine is aged in used French barrique and large Slovenian casks for 8-10 months. 40% remains in stainless steel to preserve the acidity and freshness.
To our palates, it showed aromas and flavors both earthy and floral, something vaguely like sassafras or root beer, along with red fruit, licorice and just a bit of tobacco. We talked about pairing it with beef or even game, but the vegetarians among us argued for eggplant parmigiana or the regional stuffed pepper. In Campania, where vegetables and fruits are abundant, you can enjoy a beautiful red or yellow pepper stuffed with black olives, capers, breadcrumbs, garlic and anchovies for those who eat fish, or feta or parmigiana for those of us who don't.
Substitute for Saint Cosme, Out of stock until its return in February
Barone Sergio, Nero d'Avola, 2014– $11.99
We've been on a Sicilian kick at Windham Wines for the past 7 years. When we first tried the COS wines from Vittoria, we were smitten, and so were you. That opened the door for us to discover what is nothing short of a wine revolution taking place in Sicily. No longer the source of abundant, cheap plonk, Sicily is making some of the most interesting wines in Italy. From Vittoria to Etna (see the Palmento Costanza above), you are part of the vanguard championing Sicilian wines.
There is geologic diversity on Sicily. Much of it lies at a latitude south of Tunisia, with a climate correspondingly hot and dry. Then there is the northeast, with Etna at 11,000', snow-covered and supporting winter sports including skiing. Barone Sergio is located in the Valley of Noto, in the southeast, a wine region awarded the DOC (Denominazione di Origine Controllata) Eloro. The city of Noto, by the way, is regarded as Italy's finest concentration of Baroque architecture. This is due to having a devastating earthquake in 1693 which led to the entire town being rebuilt by Italy's reknowned architects during the height of the Baroque era. For our purposes, however, the location of Baron Sergio in the Valley of Noto means that it experiences a long, dry growing season of intense sun and heat.
Nero d'Avola is an ideal grape for those conditions. It is a late-ripening, think-skinned variety. On Sicily, where so many different varieties are grown, it is harvested 2-3 weeks after Cabernet; anywhere threatened by fall rains won't support Nero with its vulnerability to rot. The other area of Italy in which you'll find some Nero is Calabria, the toe of Italy's boot.
Barone Sergio is a family-owned, 30 hectare winery with the majority of plantings in Nero d'Avola and the native Moscato di Noto. The Sergio, Nero is an uncomplicated but spot-on Nero displaying aromas and flavors that range from dark cherry and plum to an earthy, tarry, slightly licorice dimension. It is a pleasant wine by the glass, but will so easily go with all those Italian dishes that include classically Sicilian ingredients like tomatoes, olives, capers and fennel.