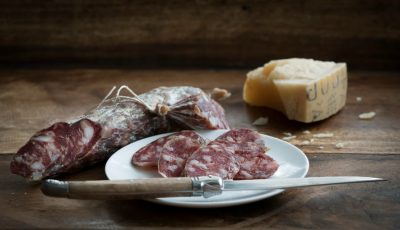 We will be partnering with Agricola Vermont for our virtual tasting with Alto Piemonte producer Gilberto Boniperti. Alessandra Rellini and Stefano Pinna, natives of Lombardy and Piemonte respectively, farm privileging soil health and animal welfare to produce traditional, authentic Italian products. They champion "intensive rotational grazing" that they maintain "favors the consumption of grass and legumes at their sweetest point, and the constant movement of muscles allows for healthier animals and more flavorful and healthy meat."
We have selected a salami and a fresh pasta as pairing partners for our February 13th tasting. Both products can be ordered directly from Agricola Vermont. Stefano, from Piemonte, agreed to a fresh pasta for our tasting, specifying that it should be tajarin, a thinner tagliatelle-like noodle. Though typically they do not ship their fresh pasta, they are making this batch for us. Place your orders by end of day, Monday, February 8th. Your salami and/or pasta will be shipped to Windham Wines for pick-up on Friday, February 12th. 
About Virtual Tastings at Windham Wines
Process
Come by the shop to buy wines for the tasting– usually 2 bottles per tasting.
Email us
your email address so that we can send you the link to participate.
Join us at 4:00 on Saturday afternoon; plan on an hour and 15 minutes.
Stay home, open wine, enjoy the conversation, ask questions.
Benefits
You can create a meal at home to enjoy with the wines post-tasting (we send food pairing recommendations with the link).
You learn about the wine, how it is made, the grapes, the place, the winemaker.
No Designated Driver necessary– you're home!