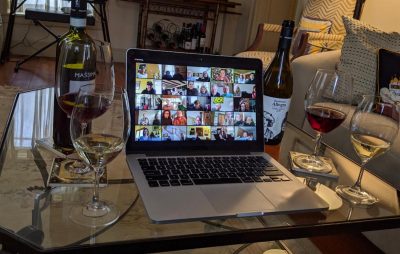 Join us for a virtual tasting this fall — we have a full schedule of wines for you to try including our new Biodynamic series.
All virtual tastings start at 4pm.
Click for more information.
Sunday, September 27th
Luca Baccarelli, Roccafiore, Umbria, organic
We love these wines, and now we'll have one of Roccafiore's owners, Luca, who owns and manages Roccafiore with his father, Leonardo, to guide us. We will be tasting what has been my favorite Sangiovese for three years in a row, the Melograno, as well as the Fiordaliso, a beautiful white made from Grechetto di Todi. It's a strong start to a very exciting tasting season.
October series
Saturday, October 10th
Geeky Grapes: Piedmont
Cameron Abbott, The Piedmont Guy
We have some wines we really love but I am sorry to say that unless we speak Italian, we cannot have a meaningful discussion with the owner-winemaker. Enter Cameron Abbott, the national rep for the importer of these wines who will talk with us about the Ezio Poggio, Timorasso, from the Terre di Libarna, a microscopic DOC (15 hectares total) in the mountains separating Piedmont from Liguria, and the Miraja, Ruche, an obscure grape from the Monferrato region.
Saturday, October 24th
Federico Russo, Crotin, Monferrato, organic
Those of you who are wine club participants will recognize Crotin and will be familiar with Freisa, one of the grapes indigenous to and now almost exclusively confined to the Monferrato region of Piedmont. This is our first "only reds" tasting of the new season– Freisa and Grignolino.
Biodynamic series
We've always wanted to have a biodynamic workshop that offered an extended conversation about biodynamic wines, talking with winemakers about their practices and how they vary in different climates with different grapes. We finally were able to set up a facsimile to that workshop virtually, talking with winemakers in three different countries. All have agreed to a final conversation the first week in December in which each will participate again to talk with each other and with us.
Saturday, November 7th
Troon Winery, Applegate Valley– Demeter Certified
Nate Winters and Nate Wahl
There is no better place to start our conversation than with Troon Winery. Nate Winters kicked off our
2019-2020 tasting season with the most informative, well-organized, comprehensive presentation of biodynamics we've heard to date. For this tasting, we may also have Nate Wahl, Troon's winemaker.
We expect to taste together their Syrah and their Tannat.
Saturday, November 14th
Sincette, Lake Garda– Demeter certified
with Giuseppe LoCasio and Andrea Salvetti
Andrea's English is lots better than our Italian, but he is glad to have his importer, Giuseppe, to facilitate translation. We fell in love with the Sincette, Groppello that we'll be tasting together. We will also
taste their Chiaretto, a rosé blend of Groppello, Marzemino and Barbera that we think will make a nice addition at the Thanksgiving table.
Saturday, November 21st
Les Clos Perdus, Corbiere and Rousillon– Demeter certified
with Paul Old, owner-winemaker
The final producer in our biodynamic series is relatively new to the country and to Windham Wines. Les Clos Perdus (the lost enclosed vineyards) started with 1.5 hectares just outside Corbiere, and now farms 20 hectares of old vines in the Langueduc and Rousillon. We'll taste two reds: Project 108, a Mourvedre, Carignan blend and the Prioundo, a Grenache, Cinsault blend. We have lots to talk about with Paul.
Saturday, December 5th
Biodynamic Roundtable
with Nate Winters and Nate Wahl, Giuseppe and Andrea, and Paul
Biodynamics is not "one size fits all." We'll get to talk with winemakers from three very different regions about how their practices vary. Of course we'll be tasting wine as well: Troon, Zinfandel; Sincette, Ronco del Garda (Marzemino and Merlot); and Clos Perdus, Project 161 (Carignan, Grenache, Mourvedre).
Saturday, December 12th
Luigi Giordano Winery, Barbaresco– organic
Matteo Rocco
One of our very favorite sparkling wines, the Luigi Giordano, Brut Nature, was created by the young Matteo Rocco, Luigi's grandson, as an experiment during his time in enology school in Alba. We'll let Matteo
tell that story as we sample his prize. The winery is located in the village of Barbaresco, a stone's throw
away from its iconic clock tower. We'll be tasting a Barbaresco as well.