Sparkling
Iapetus
Figure 2, Petillant Natural (14.5%)
Vermont
$36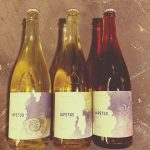 Iapetus is a branch of Shelburne Vineyards that takes a more minimalist approach to winemaking. Developed by Shelburne Vineyard's winemaker, Ethan Joseph, Iapetus wines are meant to capture the essence of place. Iapetus refers to the pre-Pangean sea that once covered the bedrock of the Champlain Valley. The grapes that go into Figure 2 come from vineyards in Shelburne and Charlotte.
Figure 2 is a petillant naturel, which means that the wine was bottled before its primary fermentation was complete. Fermentation continues in the bottle. Bubbles captured from the gas released during fermentation provide a less vigorous, gentler sparkling wine.
The Figure 2 is 100% La Crescent, a cold-climate hybrid developed at the University of Minnesota that produces fruit that ripens earlier and thus works well in Vermont's shorter growing season. It has sweet apricot and peach fruit yet retains a nice amount of acidity to provide a crisp, fresh finish.
White Wines
Old Westminster
Salt, White blend (12%)
Westminster, Maryland: $20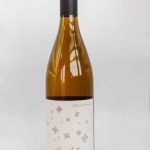 Old Westminster has been farmed by Jay and Virginia Baker since 1985. In 2009, son Drew, Old West's vigneron, planted the first vines. Daughter Lisa Hinton is Old Westminster's winemaker. She "nailed it" with the 2022 Salt, a blend of Gruner Veltliner, Chardonnay and Albarino.
Tons of juicy fruit– apple, peach, melon and grapefruit, with that wonderful saline-mineral finish from which its name derives. The vineyard soils are described as schist and limestone, both of which are associated with freshness and minerality. You may be surprised by how much you enjoy this east coast wine!
Troon
Druid's White (12.5%)
Applegate Valley, OR– $24
Demeter, Regenerative Organic Certified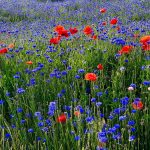 We are high off our recent tasting with Nate Winters, national sales rep for Troon. This is the third visit Nate has made to Windham Wines since their wines became available to us in 2019. We also did 3 virtual tastings with Troon, two of which included Nate Wall, Troon's winemaker, who is pictured foots-stomping some Vermentino. Tastings with Nate Winters are always educational. At the recent tasting, one customer declared that it was the best tasting to which she had been. The room agreed.
At Troon, pursuing regenerative organic certification with biodynamic farming completed the circle linking healthy soils with humane animal husbandry and respectful labor practices and wages. Perhaps we have just drunk the kool-aid, but we think it shows in the life of the Troon wines. This link takes you to a video in which Garret Long, Troon's Director of Agriculture and Biodynamic Farming, gives you a tour of Troon that includes many of the biodynamic practices.
The 2022 Druid's white is a blend of Vermentino and Marsanne. Tasters identified fruit (apple to pineapple), salinity, savory fresh herbs, and floral aromas and flavors. The texture is smooth and crisp. Many ordered it as their white for Thanksgiving. I know it will be at our table.
Tablas Creek
Patelin de Tablas, Blanc, 2021
Paso Robles: $23 (12.5%)
biodynamic, regenerative organic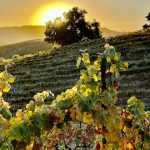 We've been fans of Tablas Creek since before we opened. The wines are superb and their practices– environmental, labor, animal husbandry and civic engagement — are exemplary. They have a well-deserved reputation within and beyond the wine sector which is why they were approached to be the first winery to pursue certification as regenerative organic. Biodynamic farming, carbon capture, respect for human and non-human nature, . . . yes, we are strong proponents of these beautiful wines.
The 2021 Patelin Blanc is a blend of 5 Southern Rhone varieties that collaborate to produce an intense, rich, fresh, compelling wine. Owner Jason Haas and winemakers Neil Collins and Chelsea Franchi, write that "it is based on the crisp acids and rich mouthfeel of Grenache Blanc, with Viognier for floral, tropical aromatics and rich texture, Roussanne and Marsanne for structure and spice, and a small addition of Bourboulenc for texture." In December, 2022, Erin Brooks, who reviews California wines for the Wine Advocate, wrote that "it features lush, inviting scents of baked quince, burnt lemon, honey, roasted almonds and streaks of flint. The medium-bodied palate is silky and seamless with a core of floral fruit and a long, latent finish. All those savory undertones suggest this has more to give with another year or two in bottle." My brother and I shared a bottle. We found ripe, sweet pear, membrillo, pistachio, floral aromas and flavors and a rich but fresh mouthfeel. Erin Brooks gave it a 95. We wouldn't argue with that. We gave it an "A."
Rosé Wines
NOK Vino
Pomme Pink
Apple-Grape Wine, 7.6%
New Hampshire, 2022
organic: $23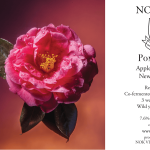 Owner-winegrower Nicholas Kimberly, whose initials create the eponymous name, is a protegé of Deirdre Heekin of La Garagista in Barnard, VT. Like Deirdre, Nico focuses on hybrid grape varieties that are crosses between European grape varieties and those that are native to North America and therefore better adapted to long, frigid winters and humid summers. While most of us can name myriad European grape varieties (e.g., Cabernet Sauvignon, Merlot, Pinot Noir, Chardonnay, Sauvignon Blanc, Pinot Grigio), we would be hard-pressed to name even one hybrid. The Pomme Pink blends grape skins and seeds from Marquette, Frontenac Noir, Marechal Foch, DeChaune and other hybrid grape varieties with an apple mash generated from an old-orchard mix of dessert and cider apples that are "frost-cured" for 3 weeks, mashed, then co-fermented with grape skins and seeds.
The result is an interesting blend that shows tart rhubarb, cranberry and sour cherry fruit with a decidedly cidery bitter finish. This is an apple wine for the young returning Brooklynites at your table, or for those who enjoy a dry, hard cider.
Red Wines
Left Foot Charley
Blaufrankisch Reserve, 2020
Old Mission Peninsula Michigan: $28, 12%
arrives in the shop on Thursday, Nov. 16th
Left Foot Charley was conceived in 2004 in Traverse City, Michigan, the product of a mission to rescue a neglected vineyard that was threatened by uncontrolled growth and powdery mildew. Bryan Ulbrich and his wife, Jennifer, nurtured the vineyard back to health, producing the first vintage of Left Foot Charley, a small batch of dry riesling.
Bryan and Jennifer do not own vineyards but work with 16 small growers (12 of whom have between .5 and 2 acres under vine) on Old MIssion Peninsula, an 18 mile finger of land dissecting Traverse Bay in the northeast section of Lake Michigan. The climate is described as "cool continental," with corresponding plantings of cold climate varieties such as Riesling, Pinot Gris, Pinot Noir, and Cabernet Franc, as well as some of our Austrian favorites like Gruner Veltliner and Blaufrankisch.
The LFC Blaufrankisch shows dark berry fruit (blackberry and cassis), an earthy, pretty umani that hints of cannabis or dried leaves and the signature ground black pepper that telegraphs Blaufrankisch.
Wolffer Estate
Cabernet Franc (13%)
Long Island, 2020
$20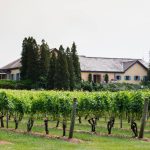 Long Island is New York's second largest wine region, though only 3 of its 57 wineries are located on the South Fork of the Peconic Bay, including Wolffer Estate, in swanky Sagaponack. Wolffer Estate was founded in 1988 (as Sagpond Vineyards) by Christian Wolffer, a business savant, who converted the former potato fields into vineyards and an equestrian center. Wolffer hired Roman Roth as winemaker. Roth has been the principal winemaker since Wolffer's inception.
The 2020 Cabernet Franc is a blend, with 81% Cabernet Franc, 13% Merlot, 4% Cabernet Sauvignon, 2% Malbec. (In the US, a varietal can be designated so long as it constitutes 75% or more of the wine.) A warm summer punctuated by a protracted heat spike in August, followed by a cool mid-September-to-harvest yielded grapes that were fully ripe with lower levels of acidity. The wine shows dried fruit– fig and raison– pepper and a bit of brown sugar. We expect it to pair well with the sweet potatoes, squash, cranberry sauce and brussel sprouts while not overpowering the turkey.
Stolpman Vineyard
La Cuadrillo, Red Blend (14%)
Ballard Canyon, 2022
biodynamic: $22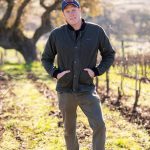 We have a new vintage and a new label for the Cuadrillo. Once again, we are smitten.
Ballard Canyon is the only Syrah-dominant AVA in the country. La Cuadrilla is always a syrah-based wine, with 60% of this vintage coming from Syrah and the remainder from Grenache, Mourvedre and Sangiovese. The 2022 shows lots of fresh red fruit– cherry and raspberry– and some very pretty autumnal notes including dried leaves (I spent much of the afternoon raking, so maybe it is not the wine) and a hint of woodstove ash. The mouthfeel is full, almost plush, but then some lively acidity carries those fruit and smoke flavors for a fresh but long finish.
The wine gets its name from the Stolpman crew, all of whom are year-round workers, a commitment founder Tom Stolpman made so that his employees would have steady work and could raise their families locally. Vineyard manager, Ruben Solorzano, trained the first crew by giving them a vineyard block, a cuadra, to work from pruning to harvest and winemaking. The resultant wine is La Cuadrilla. Profits from the sales are returned to crew members, divided by seniority.
The new label, "the Mother Vine," refers to a special vineyard made possible by the careful work of the crew, the Cuadrillo. In 2013, Ruben Solorzano cut and planted a start from what his experience taught him was an exceptional vine for quality and health. Growth from that vine was trenched underground and trained up three adjacent posts, keeping the "mother vine" connected to her "three daughters." That process has been painstakingly repeated each year since then, now with nearly 1000 connected vines. The process is expected to be complete by 2031, with about 2000 vines. A few hundred bottles will be produced then from the offspring of one mother vine.