White Wines
Atilia
Trebbiano d'Abruzzo, 2021
organic: $17 (liter bottle)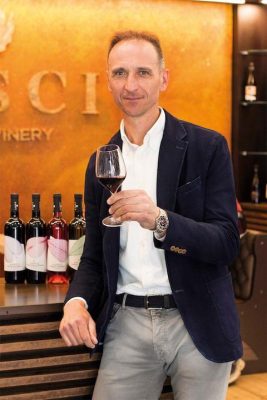 Abruzzo is one of those regions that has captured our attention in the past few years. We are devotées of the Tiberio wines (Cristiana was highlighted in our last email) that have alerted us to take notice of Abruzzo. As a region that remains natural– over a third of its geography is designated as national parks (3) or wildlife preserves (38)– it is especially important to avoid chemical applications. Cantina Jasci was founded in 1960 by Pasquale and Maria Jasci. The second generation began the conversion to organic, certified in 1990 by the third generation, Donatello (pictured right) and Piera, who have continued the "greening" trajectory by renovating with bio-friendly materials and design, including converting to sustainable energy. Currently more than 70% of the cantina's energy needs are met harvesting the renewable power of the sun.
The wine was uniformly declared a winner by the team. Tropical fruit (pineapple and passionfruit), spice and a saltiness combine on an inviting nose. The palate is very textural, with creaminess, a slight bit of tannin and a lively acidity. Flavors included pear, melon and preserved lemon, with a really pleasant salinity that left the palate refreshed. It's a shocking 14% alcohol, so buyer beware; it goes down easily.
Mesquida Mora
Sincronia Blanc
Mallorca, 2020: $20, biodynamic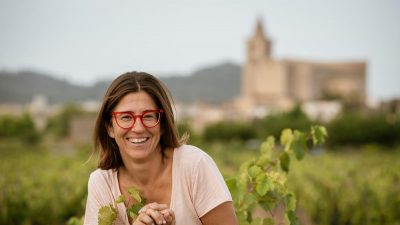 Two years ago, we had the privilege of tasting with Barbara Mesquida Mora for one of our virtual tastings. Barbara embodies all the descriptors that make for gifted winemakers: passionate, dedicated, careful, curious, humble, honest, collaborative, committed, respectful, and more, but you get the picture. She won our hearts and her wines won our palates, especially this little white, which she describes as a "love letter" to the rich cultural tapestry that is Mallorca.
Mesquida Mora is a small "family" (really one person) winery. She is a single parent raising a young daughter, together living in a house at the winery and among the vineyards. As she says, she "must grow the soil, [. . . and] try to grow the biodiversity." Though committed to biodynamics, she is no longer certified demeter, preferring to put those financial resources toward planting trees and flowers and developing a pond for waterfowl. Unwilling to apply fungicides, she lost 50% of her 2020 harvest to mildew. Still, she was "happy with the final result."
The Sincronia Blanc is a blend of Prensal Blanc, Chadonnay and Giró that shows tangy lime curd and pear fruit, then shifts to a savory, almost delicate finish. Delightful!
Cardedu
Nuo
Vermentino di Sardegna, 2021
$18, organic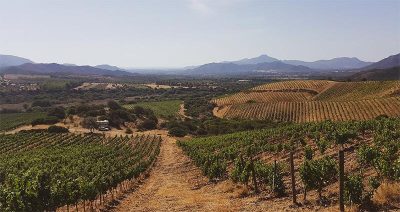 Sardinia has not had the renaissance that Sicily or Corsica have experienced. We just can't wedge another Sicilian wine into our space at Windham Wines, but Sardina had significant "room for improvement" for quite awhile. Enter Cardedu, in its 4th generation and never having applied chemicals. Where have we been? We've had the Canonau, which is their flagship wine, and wonderfully earthy and minerally.
The Loi family who own Cardedu are minimalists– nurture healthy grapes, dry-farm (no irrigation), pick by hand, ferment with ambient yeasts in large cement tanks, allow just a bit of skin contact (6-8 hours) and bottle with minimum sulfur (20 mg/l) without fining or filtering.
The 2021 Nùo conveyed rich pineapple and apricot fruit, then even a bit of butterscotch but on the palate a savory herbal mix of spearmint and rosemary, with pear and apricot fruit that lingered with some impressive acidity. The team gave it two thumbs up all around.
Orange Wines
Orange wines are made from white or gris grapes but because the juice spends time in contact with the skins, more color, flavor and sometimes tannin are extracted. The color may more accurately be described as amber. Depth of color and flavor are influenced by the length of time the juice stays in contact with the skins, ranging from several hours to many days or even months.
Crotin 1897
Camporotondo
Vina Bianco, Malvasia
Monferrato, 2021
$20: organic
Crotin is a family owned and operated organically-farmed agritourismo that includes an inn, restaurant, vineyards and winery. Biodiversity is enriched by preserving wild spaces (from which they hunt wild boar and make cured meats served in the restaurant) and by planting orchards that provide fruit for the various jams served in the restaurant. There are 8.5 hectares of vineyards that are planted to varieties indigenous to Piedmont's Asti region.
The newest wine to the Crotin line-up is the Camporotondo made from Malvasia that is left on its skins for 20 days after which it remains in cement tanks for a year before bottling. The result is a nectar of yellow raisins and apricot, hazlenut, orange, and a whiff of something floral. If you are new to orange wines, we can recommend this as a good introduction.
Vini Conestabile della Staffa
Grecorange Bianco
Umbria, 2021
organic: $24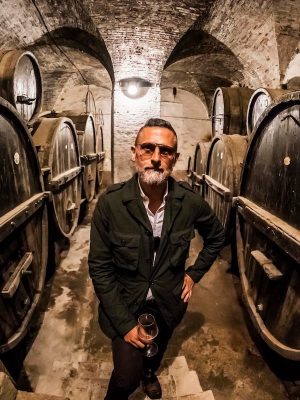 Though Conestabile della Staffa has an established history of growing grapes and making estate wines, the post-World War II demographic shift from countryside to city and the corresponding shortage of labor resulted in no estate wine made after 1956. Grapes were harvested and sold to the local cooperative until 2015 when Danilo Marcucci began resurrecting the winemaking tradition there.
Referred to as a "natural wine-whisperer," Danilo farms with compost from their own animals grazing on organic land; he vinifies without temperature control and relies on ambient yeast for fermentation, with no fining or filtering. Marcucci was motivated by the discovery of 12 hectares of vines planted to indigenous varieties in the 1970s that had not been treated with chemicals. These became the foundation of the revived Conestabile della Staffa.
The Grecorange is made from the local variety Grechetto, aged for 20 days in fiberglass tanks. Herbal and floral on the nose, there is some sweeter dried fruit on the palate, maybe date or pear, with lavender honey and still something herbal to ground the sweetness. Make no mistake, the wine is vinified dry, no residual sugar. All the sweetness comes from the ripeness of the berries and the maceration with the skins.
Rosé Wines
Day Wines
Lemonade
Pinot Noir, Rosé
Willamette Valley, 2022
organic: $20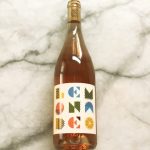 Brianne Day began making this wine after the major wildfires of 2020. Like Faith Armstrong at Onward, Brianne wanted to respect the growers on whom she relies by honoring the contracts for fruit, despite the risk for smoke taint. Her solution, like Faith's, pick early. In this case, she picked the Pinot Noir early and made rosé rather than red wine since the juice would not be in contact with the smoke-saturated skins long enough to leech into the juice. The result: she made lemonade out of a lemon of a vintage. It was such a popular wine that the practice of picking early has become her signature rosé.
Sourced from organic vineyards throughout Oregon, Brianne describes the 2022 as very "bright and juicy, . . . full of lemon, strawberry, grapefruit, pink apple, river stones, bright berries and flowers. A thoroughly enjoyable and easy-drinking wine."
Red Wines
Stolpman Vineyards
Love You Bunches, Sangiovese
Ballard Canyon, CA
$22: biodynamic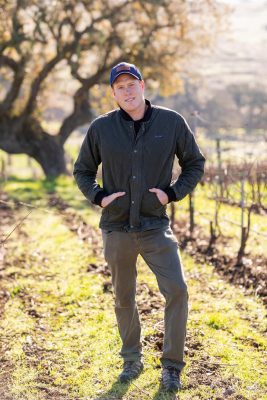 As those of you who read this newsletter closely have already discerned, I am currently infatuated with Stolpman and yet, I don't think that the sentiment will fade. The wines are superb and their practices are aligned with environmental and humanitarian values.
The March newsletter featured the Stolpman, La Cuadrilla as the wine of the month. That is a Syrah-dominated blend made by the farmworkers who, unlike much of the wine sector, are hired as permanent employees. Those workers, known as Cuadrilla, make that wine and keep its profit. That's an active choice I can get behind.
Environmentally, Stolpman is not just organic, but as of this year is certified biodynamic (demeter), which builds in so much biodiversity compared to the monocultural sea of vineyards that characterizes so much of California wine country. Every bit as importantly in California, Stolpman Vineyards are dry-farmed, which means that they do not irrigate. Pete Stolpman related that they also use own-rooted (as opposed to grafted) vines because those do not have the "wound" of the graft union which weakens the vine when young, necessitating more attention like watering and adding nutrients.
Love You Bunches is Sangiovese, and the choices again are so interesting. Whole cluster, carbonic fermentation allows for earlier picking without the screeching acidity. There is a lushness to this relatively low-alcohol red (12.5%) with plenty of good fresh fruit. We'll be tasting this, and the La Cuadrilla, with Pete during the virtual tasting on April 29th at 5:00. Join us; it will be a fascinating and fun tasting.
Poggiosecco
Ginestreto, Toscana, IGT
$16: biodynamic
This 12-hectare farm in Chianti has been certified organic since 2004, biodynamic since 2009. Moon phases dominant practices, from when to plant to when to bottle.
The image right highlights the "dynamizing" process that involves stirring one of the biodynamic preparations in a barrel to create a vortex and thoroughly expose the solution to air– and the forces of the cosmos–before application. I promise you, there is a lot more to it than that simple description. Suffice to say that biodynamics is a major commitment that is meant to restore and maintain the "balance and the gradual strengthening of every living manifestation in [the ecosystem]" (Poggiosecco website).
We've said before that biodynamics includes being organic, but involves exponentially more time. We've also said that it makes a difference in the wines. The Poggiosecoo Ginestreto is 70% Sangiovese, 30% Merlot with aromas of smoky peat, molasses, prune and then some pretty floral notes. One of our tasters said barn, as in "pet the horses and get the saddle." That's a much more appealing image than scooping out the pen. In any case, texturally the wine has both tannins and acidity, with ripe fruit and a leather-tobacco leaf undercurrent.
Manchuela
Finca el Molar
Mary Taylor Wines
$15: organic
While only in her 20s, Rus Jimenez assumed responsibility for her family's farm in the higher-altitude plains of southeastern Castilla-La Mancha. The farm includes animals and an olive grove as well as vineyards. Everything cultivated on the farm is certified organic.
The Jimenez, Manchuela that Mary Taylor imports is made from Moravia Agria, a variety grown almost exclusively in Manchuela. It is typified by lower-alcohol, higher acid and robust tannins, each of which is evident in this unusual, complex red.
To help soften the tannins, Rus ferments carbonically, with fermentation finishing with native yeasts. We tasted this wine with Mary, who described it as "taking her breathe away for its depth and elegance." Our tasters offered comments of charcoal, smoke, minerality, pepper and raspberry and blueberry.