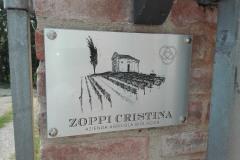 Cabernet Sauvignon and Chardonnay dominate the American wine market, together accounting for over a third of the volume of wine purchased. Meanwhile, Jancis Robinson, Julia Harding and Jose Vouillamoz have catalogued 1,368 different wine grape varieties. We have many wine-curious customer friends who want to explore more wines but find it hard to embark on that journey given the ambiguity of what may be in the bottle. When buying just a bottle or two at a time, isn't it safer to stick with something you know? We try to whet your wine appetite and expand your palate with our wine recommendations and the virtual tastings. You can also experiment with our wine of the month that focuses on a different variety, especially those with which you may be less familiar.
This month: Ruché grape variety
Zoppi Cristina
Ruche di Castagnole Monferrato
2018– $20, organic
Ruché is a variety indigenous to Castagnole Monferrato in Piedmont, a region in Italy's northwest. If you have not heard of it, that is not surprising. There are only 148 hectares planted there across 26 producers who make a total 870,000 bottles, only 35% of which is exported (and that includes many countries in addition to the US). Even Robinson, Harding and Vouillamoz in their seminal work on wine grape varieties have very little to say about Ruché except to describe it as a "rare, perfumed red variety."
Fortunately, we were introduced to Ruché years ago, then it seemed to disappear during the Great Recession. It made it back into Windham Wines with one of our favorite Asti-area producers, Crotin. We still love the Crotin wines, but since they are 3 brothers (and a formidable mother), this month as we recognize women, we are offering the Ruché by Cristina Zoppi. Cristina began farming in 2004 when she took maternity leave. She has always farmed organically, certified since 2007. She started with Barbera, but fell in love with the less well known, more locally specific, varieties of Ruché and Grignolino.
The tasting team tried the Zoppi Cristina two weeks ago. We all liked it, finding it extremely aromatic– floral and herbal, with some balsamic sweetness and a nice hint of nutmeg and cumin. There were similar flavors on the palate with the balsamic going more toward molasses.