Here are the Fall 2022 Wine Recommendations from Windham Wines. Enjoy!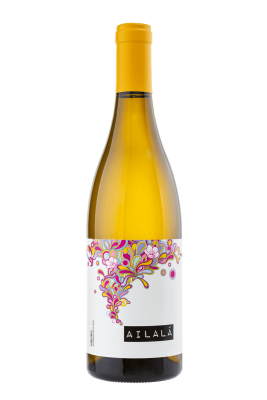 Ailalá- Ailalelo, Blanco
Ribeiro, 2020
$20
Ailalå is a Galician expression, a cry of joy and fun, a song and a shout when good times are shared among friends. Well, the tasting team tried this wine together and we were first a bit gobsmacked by how good it was, then we let out a few sighs of contentment, which may be the mid-60s, early 70s equivalent of singing and shouting. We really liked it.
100% Treixadura, The winemakers shared the following description: "The aromatics on this wine are super clean and powerful with lemon curd, apricot, white flowers and seashells. Some wintergreen/mint/fennel/cloves note. Ripe melon and sweet lemon." In the mouth, "lots of body. Very dense, . . .notes of apricot, white peach, . . . Lots of zing, some tangerine, blood orange notes. Some lemon and grapefruit peel. Very persistent."
The Windham Wines team got a briny note that we all liked, as well as tropical fruit– grapefruit and pineapple were suggested– something floral and a pretty spiciness along with the brininess on the finish.
Maysara
3 Degrees, Pinot Noir
McMinnville, 2019
$22, biodynamic

Maysara is a family-owned and operated winery that we are honored to represent. I visited there in 2009 and left as a huge fan. The Momtazis are a family who have principles and vision, a family that experienced loss and created a new life. Moe (Mahmood) and his wife, Flora, fled Iran in 1981 when Flo was 8 months pregnant with their first daughter. After a peripatetic few years that included Spain, Italy, Spain again, Mexico and finally the US, Moe and Flora later purchased this property in McMinnville in the Willamette Valley.
There are now three Momtazi daughters, each very involved with the winery, including Tahmiene, the eldest, who is the winemaker. 3 Degrees is an homage to the sisters, to their individual contributions that combine into a unique whole.
I can't do better than Tahmiene's description: "Aromas of blackberry and dark cherry fruits waft out of the glass whilst flavors of pomegranate, earthy undertones and a touch of white pepper round out the palate profile. Bright acidity and a fine balanced tannin lead the way to an ocean tide finish that ebbs back onto the palate after the sip is finished."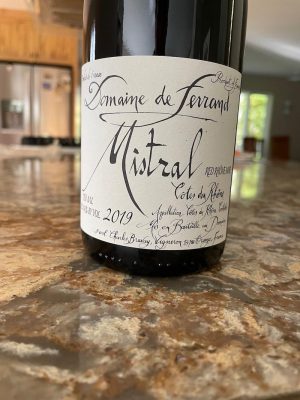 Domaine de Ferrand
Mistral
Cotes du Rhone, 2019
$18
50% Grenache, 40% Syrah, 5% Vaccarèse, 5% Carignan
I find a Cotes du Rhone to provide a nice transition to fall: they segue from the crisp whites and fresh rosés of summer to a fuller-bodied but not tannic red. The Ferrand Mistral has made a few appearances at our early fall gatherings. It has been a hit across the board.
Ferrand is a Chateauneuf estate with 9 hectares in Cotes du Rhone. There is plenty of fruit on the nose and palate, blueberry and raspberry, that are fresh and juicy, not jammy. What I love about the wine is that it captures that beautiful herbal note that the French refer to as garrigue. It's as if the wine were steeped with a bouquet garni of wild rosemary, thyme, bay leaf and lavender. It transports me to western Provence, and makes the arrival of fall almost welcome.
Marine Descombe
Mary Taylor
Beaujolais-Villages, 2020
$16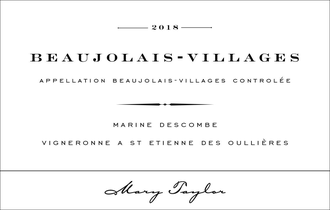 The Descombe Beaujolais-Villages is 100% Gamay with fruit from parcels in the Beaujolais cru of Brouilly. While the average age of the vines is 55 years, some date back to World War I. Grapes are hand-harvested, partially destemmed, fermented then aged in concrete for about 8 months. The result is a serious Beaujolais-Villages wine with lots of character.
Aromas and flavors of cranberry and currants, a little peat, something heading toward fennel and a lovely minerality integrate for a very satisfying medium-bodied red. This is a good table companion for this time of year before we settle in to the slow-roasted stews and meats of winter. The Descombe Beaujolais-Villages should pair nicely with tomato sauces with fresh herbs, charcuterie, dishes using tarragon, especially chicken and salmon and for vegetarians, I might try grilled tempeh kabobs with a soy and ginger driven marinade.