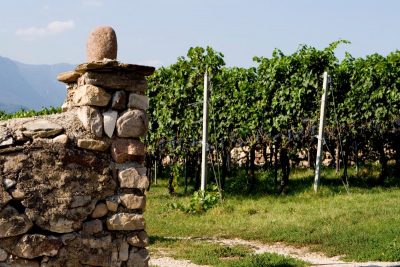 Did you know that in the US, 90% of land dedicated to growing wine grapes is planted to only nine varieties? We have many wine-curious customer friends who want to explore more wines but find it hard to embark on that journey given the ambiguity of what may be in the bottle. When buying just a bottle or two at a time, isn't it safer to stick with something you know? We try to whet your wine appetite and expand your palate with our wine recommendations and the virtual tastings. We are going to experiment with a wine of the month that focuses on a different variety, especially those with which you may be less familiar.
This Month's Pick
Lagrein, from Alto Adige in Italy
Weingut Castelfeder
Lagrein, Villa Karneid
Ian D'Agata recounts the story of a popular upraising in 1526 in what is now Alto Adige in which local farmers revolted against the nobles and included among their demands the right to drink Lagrein, historically reserved for the church, the court and nobility. By the 1970s, however, Lagrein was nearly extinct. There are now 503 hectares (1243 acres) under cultivation, representing about 9% of the total vine cultivation in Alto Adige.
Lagrein is a red variety indigenous to the Südtirol-Alto Adige where it gets the warm summer days and cool nights that it prefers. It is a full-bodied, deeply-colored wine characterized by red berry fruit, spice, occasionally a little smokiness and moderate tannins. We'll try a Lagrein for our first virtual tasting of the fall this Saturday, October 1st. Our presenter, Ines Giovanett, recommends pairing it with venison, beef (steak), meat or beetroot dumplings and cow cheeses.