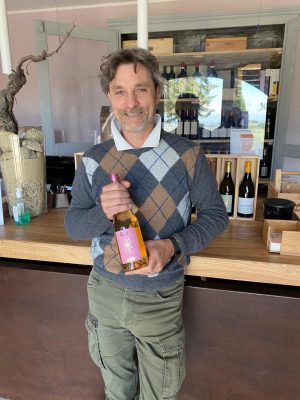 Thanksgiving for us is a day-long affair, or at least families come around 1:00 and the first ones peel away around 7:00. There are hors d'oeuvres, mingling, and lots of interaction in the kitchen as components come together, and in the living room, a subset of adults nominally watch a football game, while young children play with cars and trucks and build lego structures, accompanied by large dogs that occupy the majority of the floor space. It is a chaos of relationships and love. And of course, everywhere there is wine.
What makes a wine a "Thanksgiving wine"? Given the length of our day together, it is important that the wine is lively, fresh, energizing, not heavy, flat and enervating. Acidity is key because, as Eric Asimov wrote, "[i]t's what makes a wine refreshing and it helps to keep you going through a long day full of heavy foods." Asimov recommends that wines weigh-in between 11-13.5% alcohol and that they are not overly tannic or oaky. They will not numb your palate to the feast that has been lovingly prepared.
We've pulled several wines at the shop that we think fit the bill, many of which are described below.
White Wine Recommendations
Moderately-Priced
$20 and under
Brand, Weissburgunder, Pfalz, 2020, 1 liter: $20, organic
Germany makes dry wine, like this lively Pinot Blanc. It shows apple and lime zest fruit, a bit of nuttiness (almond) and that inviting minerality that usually, and in this case does, correlate with acidity. A beautiful label of wildflowers conveys the wine's freshness. This will go best with hors d'oeuvres, especially soft cheeses.
Steininger, Gruner Veltliner, Kamptal, 2020: $15
If this wine weren't always so predictably tasty, we wouldn't have to include it on every list. Apple, pear, white pepper, so refreshingly thirst-quenching. It's ability to energize makes me think of it as the wine equivalent to coffee.
Regueiro, Foral de Melgaco, Alvarinho, Vino Verde, 2020: $16
Like the Steininger above, we've recommended the Foral in the past and have conveyed that while technically it is from Vinho Verde, there is no fizz and this is a serious table wine. There is more fruit this vintage, and what keeps this wine and the Steininger in our regular rotation is the trifecta of a burst of flavor at entry, an identifiable mid-palate and a long finish. The prices for both are modest for the quality they deliver.
A Level Up
$20+
Palmento Costanzo, Etna Bianco, 2019: $22, organic
70% Carricante, 30% Catarratt
Etna biancos are starting to receive the attention that the rossos have enjoyed. Carricante is always briny, salty, minerally, but in good vintages for it and blended with some fruity and fuller Catarratto, the result is a wine with a nice interplay of fruit and salinity, like this one. Juicy Fruit gum, pineapple and even a hint of honey are held in check by the fresh, cleansing minerality on the mid-palate and finish.
Nanclares, Dandelion, Albarino, Rias Baixas, 2020: $23, organic
Though this is one of our customer-friends' favorite Albarinos for the past three years running, we did not expect to be able to offer it. Our allocation was so tiny this year (2 cases), but then, like magic, the distributor was left with 3 cases that 2 other accounts did not purchase, so we got them.
A relatively creamy entry with pear and melon fruit are joined mid-palate by herbal and floral notes all of which are beautifully balanced by the signature salinity that should characterize Albarino.
Bermejos, Malvasia Volcanica, Lanzarote, 2020: $28, organic
Looks like the "level-up" whites share a terroir that includes volcanic soils, which often are associated with savory, minerality and acidity. The Canary Islands that include Lanzarote were formed by volcanos. The richness of Malvasia has made it a good candidate for making desert wines (like Madeira). The volcanic soils of Lanzarote balance that dried fruit (apricot, pineapple) richness with some welcome, refreshing salty and savory minerality.
And a Rosé!
Fibbiano, Rosato, Toscano, 2020: $20, organic
100% Sangiovese
Another Windham Wines customer-friends' favorite and surely to appear at our Thanksgiving, the Fibbiano, rosato, 2020 is ready to drink. You've heard us say before that this wine often arrives before it has the opportunity to develop. We worked with the 2019 through August, and held off on the 2020 until 3 weeks ago when we tried it and said "bravissimo." Most of you who would buy this know what to expect, and we can tell you that your expectations will be met.
Red Wine Recommendations
Moderately-Priced
Under $20
Vina Zorzal, Garnacha, Navarra, 2019: $13, organic
The Zorzals (Spanish and Argentinian) are unrelated but both must be included among the very top value wines made anywhere. The Garnacha from Vina Zorzal is always a fresher version than many of those uber-ripe ones that come off jammy or treacly. There is sweet fruit to be sure, but also a beautiful herbal savoriness. Luiz Gutirrez, Spanish reviewer for the Wine Advocate, wrote that the 2019 Zorzal has a "serious palate, with freshness and chalky tannins and a serious finish." He awarded it a score of 91, and declared it a "great value!"
Sala, Nero d'Avola, Sicilia, 2019: $16, organic
Floral, strawberry, dried herbs (thyme and oregano) on the nose, then floral, spice, raspberry-dark cherry on the palate with that necessary-for-freshness acidity on the finish. There is nothing jammy or coating here; this wine is a joy.
Noelia Ricci, Il Sangiovese, Romagna, 2019: $20, organic
Sangiovese is sort of our red Gruner– we just keep returning to it as a reliably satisfying table partner. The Noelia Ricci has beautiful floral and deep mineral notes underlying a cherry and red currant fruit that blend together seamlessly.
Cara Sur, Criolla Chica, Valle de Calingasta, 2019: $20
100% Criolla Chica (aka Pais, Mission, Listan Prieto)
Though we are not usually fans of this grape, we are fans of this wine made from a 1 acre vineyard planted in 1930 at nearly 5,000 feet in the Calingasta Valley north of Mendoza. Joaquin Hildago, Vinous, wrote that "it presents notes of strawberry, damp earth, herbs and traces of menthol as well as faint aromas of almond cookie and rum cake." 340 cases made; we got 1.
A level up
$20+
Sincette, Groppello, Garda Classico, 2018: $22, biodynamic
This is a family-owned and family-run winery that cares about the future. Farming biodynamically, Sincette encompasses 35 hectares, only 10.5 of which are vines. It is located on the southwest side of Lake Garda, in the province of Lombardia. Italy's largest lake, and one with an impressive depth of up to 1135 feet, Garda generates a microclimate that has the Valtenesi, where Sincette is situated, referred to as the "Mediterranean between the Alps."
Nurturing the soils brings us wine with energy, a welcome attribute for a Thanksgiving meal. Medium-bodied with fruit ranging from raspberry to apricot, accompanied by a nice peppery finish.
Domaine Gregoire Hoppenot, Origines, Fleurie, 2019: $23
100% Gamay
A Beaujolais cru is a classic Thanksgiving wine pairing since Gamay has fruit, acidity and often lower alcohol for a red. The Origines is 12.5% alcohol and packed with flavor.
William Kelley, Burgundy-Beaujolais reviewer for the Wine Advocate, said this about the Origines, 2019, and awarded it a 93+:
"Bursting with aromas of peonies, rose petals, orange rind, plums, berries and incense, it's medium to full-bodied, sensuous and perfumed, lively and succulent, with melting tannins and bright acids."
Guion, Cuvée Domaine, Bourgueil, 2018: $24, organic
100% Cabernet Franc
This wine seems to have it all: dark berry fruit (currants and blackberries), herbs (cumin, black peppercorns, Thai basil), molasses, bittersweet chocolate, and even a little floral (violets) scent. The Guion family has been farming organically since 1965.