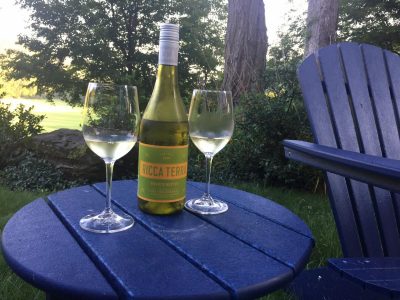 Just as food is at its seasonal best, here are four wines to enhance your harvest feast.
White Wine Recommendations
Tenuta Gorghi Tondi, Grillo, Sicilia, 2020: $15, organic
One of our delights of the summer, this Grillo is made by Clara Sala, one of the two sisters who own and manage the farm at Gorghi Tondi. The vineyard is within a regional reserve oasis protected by the World Wildlife Fund. Farmed organically, the Grillo comes from a one-hectare vineyard planted on limestone that slopes nearly into the Mediterranean (seen behind the bike riders). Salty sea breezes leave their imprimatur on the wines.
Refreshing aromas and flavors of apple, kiwi, and gooseberry, and a briny, almondy, crisp finish have made this a summer favorite wherever we've taken it.
Ricca Terra, "Bronco Buster," Riverland, South Australia, 2019: $20
Mostly Fiano, co-fermented with Greco, Arinto and Vermentino, Mediterranean varieties grown instead in the Pacific.
We have so enjoyed this wine with its citrus and floral aromas and flavors. Medium-light bodied, just as clean and crisp as a summer sipper gets. It will move into fall with us, giving us energy as the days get shorter.
Red Wine Recommendations
Fibbiano, "Casalini, Chianti Superiore," 2016: $18, organic
90% Sangiovese, 10% Ciliegiolo
Seems like it wouldn't be a Windham Wines newsletter without mention of a Fibbiano wine. We tried this in a line-up of Chiantis; it came out on top.
Plum, pomegranate, savory herbal notes of oregano and thyme, a very pretty earthiness that just seemed to fit with the autumn air– juniper and the hint of leaves starting to fall. Time in the bottle has allowed this wine to evolve into something deeper and more satisfying than it was when we started with it almost two years ago. Time to give it another try.
Cara Sur, Criolla, Calingasta, Argentina, 2019: $20
100% Criolla Chica
Criolla, aka Listan Prieto in Spain, Pais in Chile and Mission in California, originated in Spain and was widely planted in Chile where, until recently, it was regarded as an inferior variety and used mostly in blends for color. That conventional wisdom has been challenged by the wave of young Argentinian winemakers, like those at Cara Sur, who are pushing beyond Mendoza and discovering old vines of traditional varieties and showing them love.
The Cara Sur Criolla Chica comes from 50+ year old vines planted at 4500′ that are hand-harvested, fermented via ambient yeast in concrete eggs with 30% whole cluster, foot-stomped, aged in egg for 8 months. Fresh, fruit and floral flavors and aromas, this wine deserves to be made on its own. 340 cases made.