Celebrate Being Social Again
Now we can open sparkling because we can share a bottle with friends!
Sparkling Wines
Cerro la Barca, Ancestral, Extramadura, 2018: $17, organic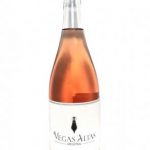 We've recommended this before and we still find it consistently delicious. Made from a blend of red (Cabernet Sauvignon) and white (Xarel-lo, Macabeu) grapes, hand-harvested, fermented with wild yeasts, a single fermentation that finishes in the bottle (Methode Ancestrale aka Petillant Naturale).
The wine has deep fruit flavors of raspberry , blueberry and blood orange, some coriander and a satisfying black cherry, orange and slate finish.
Grosbot-Barbara, Brut Zero, 2019: $26
100% Gamay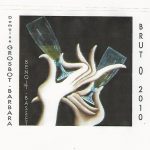 From a small estate from an obscure appellation technically in the Loire but closer to Burgundy, Saint Pouçain, the Grosbot- Barbara has won the hearts, or at least the palates, of Windham Wines' sparkling fans. Made in the traditional method of Champagne in which fermentation of still wines is completed, then a secondary fermentation is initiated in the bottle, the Grosbot-Barbara is disgorged with no dosage, which means that it is the driest of the dry.
Exuberantly bubbly, with flavors of dark cherry and pomegranate, then a raspberry-red miso umami finish that lingers.
Rosés
Fibbiano, Rosato, Toscana, 2019: $17, organic
100% Sangiovese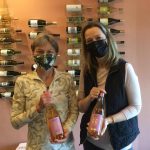 Over the past two vintages, we noticed that the Fibbiano, rosato is always better after considerable time in the bottle. This year we were able to invert a negative of the pandemic into a positive for us. Fibbiano was unable to bottle their 2019 rosé in the late spring of 2020 because they had no bottles (those plants were shut-down). We offered to take 2019 this year when the 2020 was sent.
Our 2019 rosato arrived at Windham Wines last week with good bottle age and we know stored well by Fibbiano. Cherry and strawberry fruit, sage and that crisp, bright acidity that lifts all of that into a savory beguiling finish that we'll call minerality.
Triennes, Rosé, Var, 2020: $16
Primarily Cinsault, blended with Grenache, Syrah and Merlot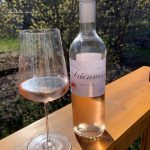 The Triennes, rosé is another perennial Windham Wines customer-friends rosé favorite. It's impossible to talk about this wine without reviewing its pedigree. It is a joint project of Burgundy's two most-respected producers, Aubert de Villaine at Domaine Romanée Conti and Jacques Seysses at Domaine Dujac, who collaborate on this property in the Var region of Provence.
Aromas and flavors of redcurrant, blueberry and orange fruit, some pretty floral notes that are aromatic without being sweet and a refreshing finish that weaves fruit and floral beautifully.