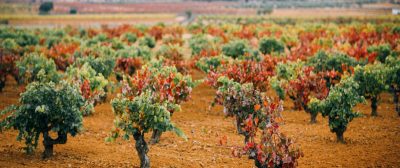 White Wines
Bodegas Gratias, ¿Y Tú De Quién Eres? Blanco, La Mancha, 2019
$15 (organic)
Dona Blanca, Tardana, Macabeo, Albillo
Cultivating exclusively native varieties, the Gomez family work 10 hectares of untrellised (bush) vines, dry-farmed and untilled. Hand-picked, ambient yeast fermented, the wines are aged in various containers from concrete to large barrels, then bottled without fining or filtering.
There is a lot going on with this wine– floral, herbal, stone (apricot) and tropical (pineapple) fruit. We loved the balance between fruit intensity and salinity. Medium bodied, we thought prawns, salmon, Spanish tortilla or a curry with butternut squash would make nice pairings.
Quinta do Regueiro, Foral de Melgaco, Alvarinho, Old Vines, Vinho Verde, 2019
$15
Our love of Albarino (Alvarinho in Portugal) continues with the Foral de Melgaco from Requeiro. Just to clarify, there is no spritz to this wine. It is not a blend, but 100% Alvarinho. Vinho Verde refers to a place of origin and not, technically, a style. Those of you looking for that low-alcohol, slightly fizzy wine, this one is not for you.
There is real depth to the Foral. It weighs in at 13% alcohol. It is surprisingly creamy, with aromas and flavors of lime, lemongrass, even a little honey but balanced by a salty-sweet finish. Mark Squires, who reviews Spanish wines for the Wine Advocate wrote "[t]his is a beauty, still unevolved, but capable of developing and improving."
Tiberio, Trebbiano d'Abruzzo, 2019
$18 (organic)
Cristiana Tiberio is a legend already in Abruzzo, having nursed neglected old-vine Trebbiano Abruzzese back to health relying only on indigenous, organic inputs and mostly effort and love. The result is the rediscovery of a now rare biotype of Trebbiano, one that rewards all the nurturing (and the altitude) with a wine that is quiet on the nose and exuberant on the palate.
Each of the wines that we tasted with Cristiana was a delight and wines that we are proud to have on our shelves whenever their very small allocations come in. But the Trebbiano– and this her entry-level– for me characterizes what Cristiana and her viticulturist brother, Antonio, have captured through their many hours and years of hard work, dedication and sheer stamina: wines of purity and elegance that responsibly reflect the uniqueness of place.
Red Wines
Usseglio, Ventoux, 2017
$15 (biodynamic)
Grenache, Syrah, Carignan
If you've been to Provence or watched the Tours de France, you've seen the iconic summit of Mt. Ventoux, a pyramid of eroded limestone pebbles. That limestone permeates the Ventoux vineyards, contributing much welcomed minerality and freshness into the resulting wines.
Stephane Usseglio's Ventoux is reminiscent of place, with red currant and blackberry fruit, some licorice, then some of that distinctive south of France garrigue– lavendar and rosemary– that gets reinforced with some minerality on the finish. For those whose Spring Equinox/Easter dinner includes lamb, consider a bottle of this or the Glatzer, Blaufrankisch at the table.
Glatzer, Blaufrankisch, Carnuntum, 2018
$19 (organic)
We're happy to report that the Austrians are backing off the use of new oak on red wines. This entry-level Blaufrankisch aged in giant oak barrels, contributing oxygen rather than adding another flavor, lets you taste only the grape.
We found dark cherry, black pepper and molasses on the nose, with flavors ranging from cherry and blueberry fruit to violets and even something earthy heading to leather on the palate. It's a wonderful introduction to the variety.
Gregoire Hoppenot, "Origines," Fleurie, 2019
$23 (organic)
We've been looking for a more delicate Fleurie for a few years, ét violà, the Hoppenot arrived in Vermont for the first time just a few months ago. This is only the second vintage for Gregoire Hoppenot, who writes that his "job is to retransmit the purest expression of each origin, unvarnished, respecting the qualities and limits of each vintage."
Origines is a blend across his lots, and wow did he produce a winner. Hand-picked, whole cluster fermented with indigenous yeasts at lower temperature for gentler extraction, the wine is aged in concrete. The result is a pure expression of Gamay from Fleurie– velvety texture, cherry to raspberry fruit, a floral note that leans to rose and a perfect seasoning of pepper on the finish.
Need more wine recommendations? See 25 Under $25 for Winter 2021