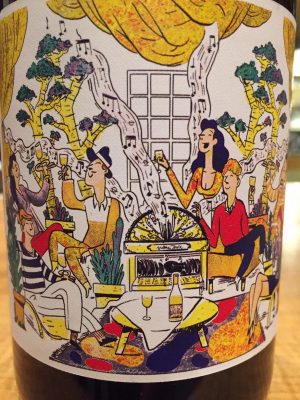 White Wine Recommendations
L & C Poitout, Bourgogne Blanc, 2018: $20
100% Chardonnay from a vineyard in Tonnerre, a region of Burgundy to the east and just north of Chablis. Louis and Catherine Poitout farm a total of 18 hectares throughout Chablis and Tonnerre, all Chardonnay.
Like Chablis, Tonnerre is characterized by the chalky-limestone soil known as kimmeridgian which allegedly contributes to the bright acidity that marks the wines. The Poitout Bourgogne Blanc is a pure expression of lime curd and minerality just shy of something flinty. This label is so much fun, and fortunately, it captures the spirit of the wine– playful, energetic, delightful.
Durigutti, Cara Sucia, "Legitimo," Blanco, Mendoza, 2019: $15
Palomino, Pedro Ximenez, Ugniblanc, Chenin, Moscatel Amarillo, Sauvignonasse from a 80-year old vineyard, organically farmed.
Brothers Hector and Pablo Durigutti are among the young winemakers transforming Mendoza from industrial to artisanal farms. The wine is from an 80-year old vineyard, organically-farmed. It is a field blend, which means that all the varieties are planted together, picked concurrently– and these are hand-harvested– and co-fermented via native yeasts in concrete eggs, then bottled without fining or filtering.
The natural richness of the varieties is enhanced by the juice spending 20 days on the skins. Flavors and aromas of pear, honey crisp apples, hazelnuts and ginger are delivered with a plush mouthfeel that nonetheless finishes with fresh acidity.
Murgo, Etna Bianco, 2019: $18 
70% Carricante, 30% Catarratto
Carricante, according to Italian wine aficionado, Ian d'Agata, is a one-zone variety (Etna) that loves high altitude and volcanic soils to bring out its intense minerality. Catarratto is blended with it to add more fruit flavors, tone down the acidity and lend some weight to the wine.
The 2019 displays a beautiful interplay of orange and melon fruit, and an herbal quality that heads toward tarragon, but then these more extroverted flavors are dialed back by a salinity that melds with the fruit and finishes by cleansing the palate.
Red Wine Recommendations
Couron, Cotes du Rhone Villages, 2017: $14
A classic G-S-M blend of Grenache (40%), Mourvedre (35%) and Syrah (25%) from 3 acres of vines averaging 50 years, hand-harvested, fermented and aged in cement.
The wine, not surprisingly since it is made by the couple pictured above, Jean-Luc and Marie-Lise Dorthe, is an honest, authentic expression of fruit and place. Lots of fresh blueberry and dark cherry fruit, but with this bottle-age, the Mourvedre is starting to develop, at mid-palate showing some meaty-charcuterie notes and finishing with just a suggestion of black pepper.
Vina Robles, Arborist, Paso Robles, 2018: $14
Syrah (41%), Petite Sirah (35%) Grenache (12%), Tannat (12%)
Though some of the building blocks are the same as those of the Couron– Syrah and Grenache– the Vina Robles is a completely different being. It is the quintessential winter warmer, a New World expression of ripe fruit– dried cherries and plum, lush, velvety mouthfeel finishing with baking spice and chocolate from 18 months in oak.
Forest Hill Vineyard, Highbury Fields, Shiraz, Great Southern, Western Australia, 2017: $24
92% Shiraz, 8% Malbec
To carry out the red winter-welcome, Syrah-theme, we recommend an Australian Shiraz– it's been a long while since we've done that! This wine comes from far western and southern Australia, influenced by both the Indian and Antarctic oceans that create a cool climate that has been the gold coast for Australian Riesling.
Owner and co-winemaker, Guy Lyons, practices dry farming (no irrigation) with weed control managed by sheep. The wine is fermented with native yeasts, aged for 10 months in various sizes of oak, all previously used.
This is a full-bodied wine with blueberry, strawberry and raspberry fruit and, while the wine is creamy, the fruit remains fresh, not cooked, like a treacly jam. There is a nice black pepper spice and a very pleasant minerality that give the wine a lighter feel on the finish. Time to give Australian Shiraz another look.