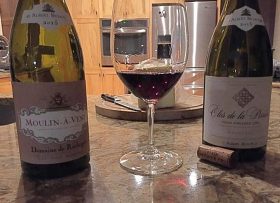 I hope that you all enjoy Thanksgiving as much as we do. It is a wonderful time of family, friends, food and,of course, wine. After a token 5 km turkey trot, we all gather in the kitchen for much of the day, cooking, sampling, eating hors d'oeuvres, oogling over the new lives that have joined us since the last family gathering– we have 30-somethings whom we treasure. It is a glorious day that begins with "bloodies" or sparkling, and ends with a feast and bottles of red and white at the table.
We have lots of recommendations that we think of as welcome companions to our festivities. We'll be opening the first two whites and the first two reds this Friday, November 16th, from 4:30-6:00 at the shop. Come by to try them.
Sparkling
Moirots, Cremant de Borgogne, NV ($18.99)
80% Pinot Noir, 20% Aligoté
hand-harvested from 2.5 hectares in the Cote Chalonnaise
gentle bubbles, enchanting flavors
Raventos i Blanc, Blanc de Blancs, 2015 ($20.99)
42% Xarel-lo, 38% Macabeo, 20% Parellada
biodynamic from 40 year old vines
always vintage; 18+ months on the lees
minerality and fruit combine in this elegant, quiet beauty
Giordano, Nebbiolo Brut ($32.99)
100% Nebbiolo, all from Barbaresco
organic
335 cases
Brut Nature, which means absolutely dry
ever-so-slightly rosé
energetic, full-bodied, joyous–yummy!
White
Luneau-Papin, La Grange, Vieilles Vignes, Muscadet, 2017– $17.99
100% Melon de Bourgogne
45-year old vines, hand-harvested
almost paradoxical combination of ripe fruit (orange and pear) with intense minerality
tension and depth
Can Feixas, Penedes, 2016–$14.99
40% Parellada, 36% Macabeo, 18% Chard, 6% Malvasia
300 acres, mountainous-northern most Penedes
Parellada known locally as "montonec," grape of the mountain
Fragrant, stoney, clean, fresh; interesting and delicious
Citluk, Zilavka, Herzegovina, 2014– $18.99
Zilavka is a variety native to the Balkans, found in Croatia, Serbia , Macedonia and Bosnia-Herzegovina
fascinating history of survival against all odds, first phylloxera in early 20th century,
two world wars, vineyards replanted in 1957, then devastating war of the 1990s, which was also a "war against the farmers"
Currently only 2500 acres of vineyards in Herzegovina
Zilavka is nutty, fruity and crisp
Poggio, Timorasso, Colli Tortonesi, 2016– $24.99
100% Timorasso, a rare Piemontese variety with fewer than 75 acres in all of Italy and none elsewhere
organic– not certified, but no chemicals ever used
hand-harvested from 15 hectares at 2,000′ elevation
beguiling aromas, medium weight yet with a beautiful lightness on the finish
Red
Perez, Ultreia, Saint Jacques, Bierzo, 2016– $17.99
Mostly Mencia, with Bastardo (Trousseau) and Garnacha Tintorera (Alicanté Bouchet)
organic (not certified)
vines between 75-118 years old
There is a pure, elegant, silky, easy to sip, long finish
Edmunds St. John, Bone-Jolly, Gamay, Sierra Foothills, 2016–$19.99
100% Gamay
3000′ elevation, hand-harvested,
indigenous yeast, all stainless steel, no fining or filtering, 400 cases
so much flavor concentration for a medium-weight wine, from dark cherry to earth, tea and spice.
It gets better over time.
Sincette, Groppello– $21.99
100% Groppello
biodynamic certified
11 hectares
indigenous yeast, no filtration
floral, fruit and a beautiful savory note keep bringing us back to this wine
Domaine de la Butte, "La Haute de la Butte," Bourgueil, 2016–$ 28.99
100% Cabernet Franc
organic certified
14 hectare, hand-harvested, indigenous yeast
destemmed, foot-trodden which is the gentlest crush– does not break seeds
love the chimerical shift from fruit to graphite to savory all wrapped in just a medium-weight wine with a long finish extended by the lively acidity.