Castelfeder, Muller Thurgau, "Gessner," Alto Adige, 2013–$19.99
We have written about this wine as one of last week's "picks." For more on Castelfeder and the Alto Adige region, we invite you to look there. Below is a picture of the beautiful Castelfeder vineyards against the backdrop of the impressive Dolomites.
Muller Thurgau is German hybrid related to Riesling, Pinot and Schiava. The Castelfeder Muller exhibits a pretty nose with green hues of fresh herbs (parsley and mint) and lime zest. Medium-bodied, with flavors consistent with the aromas, the wine finishes with salinity and bright acidity.
The Castelfeder Muller should pair brilliantly with appetizers like feta or goat cheese marinated with a good extra olive oil, fresh herbs (I plan to use oregano, thyme and rosemary), lemon zest and maybe some capers. Whatever you are preparing that combines briny, citrus, and salinity will be enhanced by this wine. It is a great wine to join you in the kitchen as you prepare the meal; it is flavorful, but lower-alcohol and frisky acidity. It is a great wine to keep the conversation and energy flowing!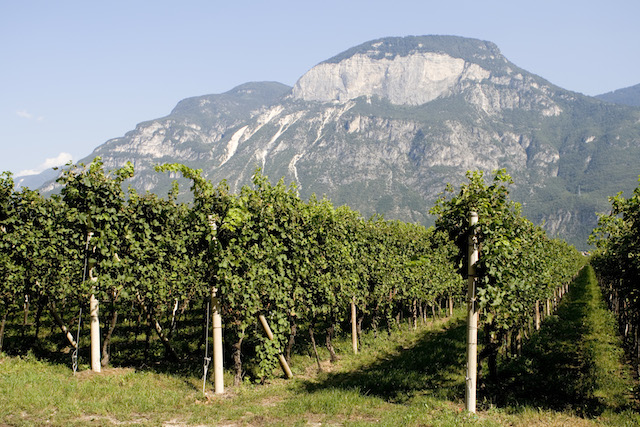 Burgans, Albarino, Rais Baixas– $14.99
Albarino is an aromatic, fresh variety of Northwestern Spain and Northern Portugal. While we've observed significant vintage variation among producers, we are always able to find an Albarino with rich fruit aromas and flavors of peach, pear, even apricot, along with some orange zest and, in our favorites, some clean minerally quality. The Albarinos that we most enjoy balance that ripe fruit and full mouthfeel with refreshing acidity.
The rich, ripe flavors of Albarino contrast with the cool, wet climate of Galicia where it is grown. These kinds of aromas and flavors bring to mind sunshine and warmth, but don't go to Galicia expecting those. Bordering the Altantic, it gets the brunt of fog and rain. It is such a damp, wet region that vines are trained onto posts and trellised like an arbor; grape clusters hang beneath the canopy. This method of trellising is meant to allow for maximum ventilation, providing a sort of leaf umbrella to protect the clusters and encourage air flow to dry them precluding rot.
The Burgans Albarino is spot-on this vintage. Here is part of the review from the International Wine Cellar: "Intense orchard and pit fruit aromas are complemented by ginger, white flowers and orange zest, along with a strong mineral overtone. Silky and expansive on the palate, offering sappy pear and peach flavors, a touch of honey and a refreshingly bitter note of pear skin. Anise and chamomile notes come up with air and linger on the long, gently sweet, mineral-driven finish." In other words, there is a lot of flavor there for the modest cost.
We've found that Albarino is well-received by just about everyone, even those who prefer red wines. It is a great selection for a broad group and wide range of foods, like Thanksgiving.
Birichino, Malvasia Bianco, Monterey, 2013–$14.99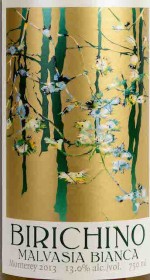 This is a "wow!" wine—so aromatically rich with a nose of white peach heading to tropical, reminiscent of pineapple and mango. The texture is full and round, yet there is still fresh acidity on the wine. Frank and I had this wine—after a opening salvo of sparkling, of course, when we went to dinner at Narcissa, John Fraser's (Dovetail) newest venture in East Village. The Birichino married well with the grilled sweet potato with Jerk spices and roasted cauliflower with Moroccan-spiced yogurt we enjoyed as starters.
Birichino is another of those "new" California wineries started by young, idealistic people who want to make wine expressive of place. Alex Krause and John Locke, the owners of Birichino, met while both worked at Bonny Doon, under the guidance of the iconic Randall Grahm. When presented with the opportunity to buy the Malvasia grapes from the San Bernabe Vineyard in Monterey County, they jumped into winemaking.
2013 is the 6th vintage of their Malvasia. Here is what Alex and John say about this vintage: "[W]e picked this in the middle of the night on September 19th, gave it some extended skin contact all night long and into the early morning hours. As the first bins hit the press, we were blown away with the scents of Hawai'I, so unbelievably pronounced and lovely was the aroma, and so immediately apparent. We have never experienced anything like it in more than 20 vintages working with this vineyard and this variety." (They worked with it previously with Bonny Doon.)
We think this is the ideal white for the roasted vegetables at the Thanksgiving table, and it will pair beautifully with some Brie and fruit and blue cheese appetizers.