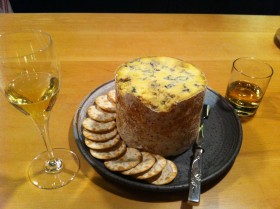 The "tasting team" at Windham Wines recommends the following wines to welcome companions to your Thanksgiving table. We offer suggestions of sparkling, white, rosé and red, providing you with some color surrounding each wine. As the quintessential "American" holiday, we were particularly attentive to including at least one US wine within each category. Some of these wines will be present at each of our tables next week. We shall raise a glass in gratitude to your support over the past eight years. We appreciate you!
Sparkling Wines
Those of you who have been to our shop tastings know that we like to start with a celebratory sparkling. Beginning a social gathering with a sparkling wine sets the tone as fun and convivial. For larger gatherings, you will want something that both tastes good and is affordable.
Gran Gesta, Cava, Brut, Reserva–$14.99
Cava is the sparkling wine of Spain, usually made from three indigenous white varieties—Macabeo, Xarello and Parallada; occasionally a bit of Chardonnay is included. It is made in the traditional method of Champagne, which is to say that after the still wines are made, they are blended—usually across vintages, then bottled again with the addition of some sweet must and yeast, then capped. Because of the addition of the sugar-mixture with yeast, a secondary fermentation occurs in the bottle that produces the delightful bubbles.
Over 300 companies make Cava, most buying grapes and making vast quantities of low-end bottles. A very few, like Covides that makes the Gran Gesta Cavas, make wine from estate-grown grapes only. Covides is committed to making wines that taste of "terroir," of the place from which the grapes come. They use only native yeasts for fermentation, which ensures that flavors are truly of the place and not the laboratory or marketplace.
Most Cavas are aged for a minimum of 9 months in the bottle. Reservas, like the Gran Gesta, age for at least 18 months. The lengthier aging results in a richer wine, with greater body and smaller, gentler bubbles. The Gran Gesta is made from only the top 5% (highest quality) estate-grown grapes.
The Gran Gesta, Brut, Reserva is a terrific value sparkling that we find beautiful in the glass—a light honey-color with lots of energetic, small bubbles, and delicious to drink. It has rich brioche, baked apple and floral aromas and flavors. It is a lovely glass on its own, but you might want to try it combined with some Putney Mountain Winery Cassis to create a "Kir Royale," the sparkling beverage that starts many of our gatherings when we visit friends in France. Perhaps you can start a new holiday tradition—out with the "Bloodies" and in with the Kir Royale—Cheers!
Salinia, Twenty Five Reasons, Petillant, Rosé– $23.99
California wines have enjoyed a real resurgence among the wine curious, largely due to producers like Salinia, a family-run winery making micro amounts of wine—a total production of only 500 cases annually. Located in Russian River Valley only 10 miles from the coast, they make only three Salinia label wines—a Chardonnay and Syrah from the Heitz Vineyard and a Pinot Noir from W.E. Bottoms Vineyard.
Twenty Five Reasons is a separate project, part of the Natural Process Alliance, whose mantra is that "expressive soil is sacred, responsible farming is a requirement and hands off winemaking are the only options." Member wineries of the NPA produce wines naturally, which includes organic farming, hand-picking, fermentation by ambient yeasts, and generally allowing the wine to make itself.
The NPA is quintessentially local, with wines available through a program in which you buy a bottle and take it to one of several locations in the Bay Area, where you could have it filled.
Sunhawk Red, made by Salinia, was one of the NPA wines. Kevin Kelley, co-owner and vine-tender for Salinia purchased grapes from the vineyards at biodynamically-farmed, Demeter-certified Sunhawk Farms in Mendocino. Twenty Five Reasons is a rosé made from the same blend, which includes 5 red and 5 white varieties. It is made as a true field blend, with the grapes all harvested at the same time, and fermented together.
Kelly prefers the Method Ancestral that produces a "petillant," a sparkling wine with less pressure than Champagne, more frizzante than fully sparkling. Petillant wines are made by interrupting the primary fermentation before it is complete. The wine is bottled under crown cap (the crimped cap like bottled beer) and fermentation continues in the bottle without the addition of more sugar and yeast. Kelly prefers Petillant wines to fully sparkling because, he argues, "you can smell and taste the wine. They go really well with food."
For those of you who like to try new things, Twenty Five Reasons is a wine for you. The name comes from the size of the bottle. Each 750 ml bottle contains just over 25 ounces, each a reason to enjoy this unusual bottle.