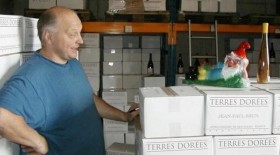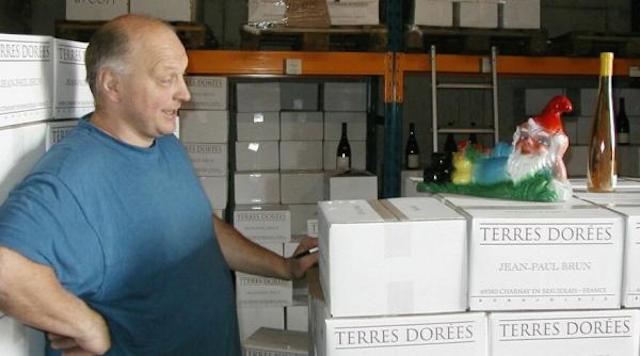 Folk Machine, Pinot Noir, Central Coast, 2013–$19.99
Another wine selected as a customer favorite, from the California garagistes tasting on October 21st. Beautiful dark cherry fruit aromas are complemented by clean, woodsy smells of dried leaves and piney resin. This was one of the first of the new wave of California wines with which we fell in love—good typicity of the variety at a very affordable price (for California Pinot Noir).
Folk Machine is one of the projects of Kenny Likitprakong. The umbrella company under which Kenny Likitprakong makes a range of wines is called Hobo Wines. Kenny observes that there are two ways to make wine: with and without money. He is decidedly in the second group—"no winery, no vineyard, no truck, no warehouse, no employees . . . nothing." He truly is a garagiste, buying grapes and making wine leasing space from others.
The 2013 Folk Machine is made from Pinot from Monterey and Mendocino. It is relatively light-bodied, but has concentrated flavors. Pinot, along with Gamay (see below), is a classic recommendation for Thanksgiving. It does not overwhelm the turkey, but its dark cherry fruit and slightly roasted coffee/toffee flavors complement the caramelized flavors of the roasted root vegetables. Bon Appetite!
Terres Dorees, L'Ancien, Beaujolais Rouge, 2013–$18.99
This is a lovely Gamay, soft and delicate, with good cherry and even plum fruit and virtually none of the banana and candy aromas and flavors affiliated with Nouveau. While it is the same grape, the only real overlap with Beaujolais Nouveau is that the wine is light-bodied.
Terres Dorees' vines are farmed organically by owner/vigneron Jean Paul Brun. The L'Ancien is made from 80-year old estate vines, destemmed for greater extraction, fermented and aged in neutral Burgundian oak barrels. Unlike many of his peers, Brun relies on indigenous yeasts for fermentation, eschewing the cultured yeasts that contribute those candy and banana flavors. He prefers the fruit and delicacy of honest Gamay to those more engineered flavors. I guess we do too, because we love this wine.
Gamay, along with Pinot Noir, is a classic pairing at Thanksgiving. Its flavors and weight make it a wine that can go the distance of a long afternoon. We have Cru Beaujolais, and we love them, but they typically run from the low $20s to $40s. The L'Ancien lets us be generous, rather than rationing our pours. Delicate, fruity and delicious, we think that you'll enjoy your last glass as much as your first one.
Castelfeder, Schiava/Vernatsch, "Breitbacher," Alto Adige, 2012–$17.99
The area in which Castelfeder is located, Alto Adige, is also known as the Sudtirol from its historical inclusion as part of the Austro-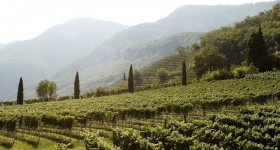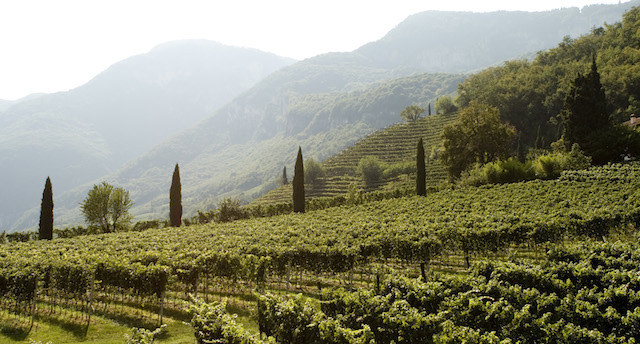 Hungarian Empire. Most residents are bilingual, speaking both German and Italian so, not surprisingly, this grape variety goes by Vernatsch in German or Schiava in Italian. Regardless of which name you select, you will find some lovely blue-ochre overtones, including blueberries, dried cranberries and cherries, violets and something ever-so-slightly burnt-sugar.
We think that this wine will pair wonderfully at the Thanksgiving table. It will not overwhelm the turkey, but will compliment the cranberries, sweet potatoes, other root vegetables and savory stuffing. We hope that you enjoy the Schiava as much as we do. Below is an image of the vineyard from which these grapes come.
Sharecropper's, Cabernet Sauvignon, Columbia Valley, 2012–$14.99
Such a deal! The Sharecropper's Cabernet Sauvignon is a fruit-forward, lower-tannin Cabernet with a fuller mouthfeel than expected from a 13% alcohol Cab. The 2012 is drinking beautifully. Our customers must think so because this has been one of our most popular reds since the balance between red and white tilted solidly toward red about two months ago.
Sharecropper's is a collaborative project of Owen Roe and local growers. According to Owen Roe's co-owner, David O'Reilly, Sharecropper's began during the recession of 2001 when local growers where unable to sell their fruit and brought it to him. It was good-quality fruit with no market. Owen Roe took the fruit, made wine, marketed and sold it, then shared the profits with the growers. In those dark days, growers waited through a vintage to be reimbursed. The collaboration has continued, but now the growers of the Cabernet and Pinot that go into the two Sharecropper's wines are paid upfront.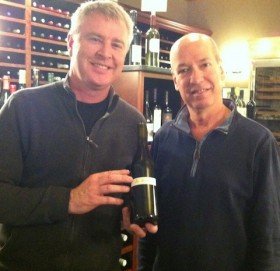 David O'Reilly was visited the shop two weeks ago. Several of you met him and discovered what an interested, gracious person he is. It is our pleasure to have the opportunity to sell wines from Owen Roe. What better wine to serve on this American day of Thanksgiving than a wine that gave some individuals the opportunity to gain by addressing a community need?