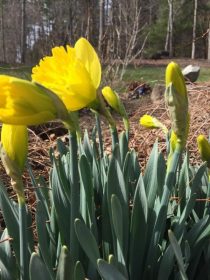 Stop in to Windham Wines for all your Easter wine needs.  Need help choosing a wine to go with your Easter dinner?  Here are a few recommendations that our tasting team really liked.
Avinyo, Petillant Vi D'Agulla, $14.99
practicing organic
Lightly sparkling, light bodied and low alcohol (but dry), provide a perfect glass to begin your brunch or afternoon repast
Montonale, Montunal, Lugana, 2016– $18.99
The favorite wine– red or white, at our Italian tasting at the end of January. This 100% Turbiana (white grape) shows beautiful pear and apricot fruit with a creamy, lush mouthfeel and lingering minerality. This should make a lovely wine to serve for those of you enjoying ham.
Lafage, Miraflors, Ros, Cotes Catalanes, 2017– $16.99
practicing organic– arrives in the shop on Thursday
For 3 years, the Miraflors has been one of our most popular roses. It is back and it is as good as ever— wild strawberry, raspberry, pear and more minerality. I can't imagine what this wouldn't go with!
Birichino, Pinot Noir, Saint Georges, Central Coast, 2016– $21.99
practicing organic– arrives in the shop on Thursday
This one goes both ways– ham or lamb. From 90+ year old vines, the wine has classically sweet cherry and tart pomagranate fruit, with a pretty, fresh herbal undertone (sage, rosemary).
Segni di Langha, Barbara Superiore, 2016– $29.99
organic
The tasting team tried this last week and, to a person (4 others), gave it two thumbs up. Deep, dense, inky, full-bodied with concentrated flavors of blue and black berries and a savory, flinty finish. This should be a spot-on pairing with lamb.