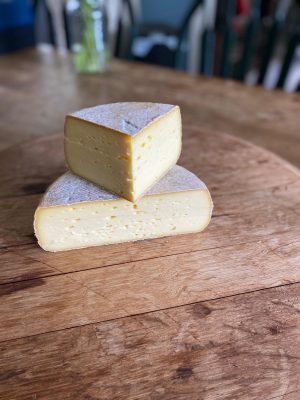 What do Windham Wines loyal virtual tasting friends have in common with cheese experts from around the world? Good palates that love Parish Hill cheeses! At the World Cheese Competition in October, this year held in Tronkheim, Norway, 264 judges assessed 4502 cheeses from 43 countries for their appearance, aroma, texture and flavors. It's a wild event in which judges work in teams each of which assesses a few hundred cheeses before identifying one exceptional cheese from their table as its "Super Gold". The Super Golds then compete against each other for the World Cheese Champion. Cheeses are blind tasted (maker and cheese not identified). Two Parish Hill cheeses were singled out for Super Gold honors: Humble, a 4-pound tomme washed with cider released as early as 60 days after culturing, and Idyll, a 40-pound mountain cheese aged for a minimum of 18 months.
Parish Hill owners and cheesemakers, Peter Dixon and Rachal Fritz Schaal, have participated in and enriched several of our virtual tastings in the past 3 years. They paired their cheeses with the wines we tasted and we enjoyed not just their cheeses, but the fascinating, lively conversations with the winemakers about the terroir of the wines and that of the cheeses. Rachel and Peter are pictured above with vigneron GianLuca Colombo who they visited in Barolo in September when they were invited to the Slow Food Cheese conference in Bra, Piedmont (Italy) where they presented on "autochthonous starters for natural cheesemaking."
You can try the Humble and Idyll for yourselves, and any of the Parish Hill cheeses, by ordering from Parish HIll and paying them directly. Under "shop all," the first icon that shows the World Cheese Awards logo is the link to order these two cheeses (in either 1/2 or 1 pound wedges) to be delivered to Windham Wines. You can order additional cheese as well. When you check out, in the second step (delivery method), select "store pick up" to avoid shipping and the attendant charges. Your selections will be available to be picked up at Windham Wines during Thanksgiving week. We are open Monday-Wednesday that week, then again Friday and Saturday. You will need to make your on-line order by Sunday afternoon, November 19th.
Congratulations, Peter and Rachel!