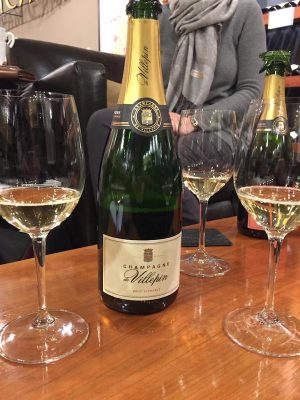 It's the time of year when we celebrate friendship and toast to hope for the new year.  As many of you know, we are big sparkling fans. Over the course of the past few months, we have been busy tasting sparklings, honing the selection to offer the best values across styles and price points. Just like still wines, sparklings are made from many different grapes that correspondingly yield a range of flavors. They are also made bubbly using different techniques, that produce different textures and levels of liveliness.
Below are some of our favorites, categorized by style.
Pétillant Naturel (Pet' Nat)
Also called Methode Ancestrale, this is the original style of sparkling wine, though initially unintentional.  For Pétillant Naturels, wine begins its primary fermentation, then is bottled before that process is complete. The primary fermentation continues in the bottle. Carbon dioxide generated via fermentation creates pressure that is released as bubbles when the wine is opened and exposed to oxygen. Pet'Nats have lower pressure and are less lively than full-on sparkling wines like Champagne.
Brand, pet-nat, 2018, Germany– $28
(Organic; 50% Silvaner, 50% Pinot Blanc)
Méthode Champenoise or Méthode Traditionelle 
Champagnes, and sparkling wines made in that style, differ from Pétillant Naturels in that they begin with completely fermented still wines, i.e., wines in which all of the natural sugars of the berries have been converted into alcohol. These still wines are blended across lots and often across vintages, then an additional sugar component is added, providing the fodder for a second fermentation that takes place inside the sealed bottle. Once again, carbon dioxide is a by-product of that secondary fermentation, which has been calibrated to produce more gas and therefore greater pressure in the bottle– hence the need for a stronger bottle and a cage over the cork.
Windham Wines stocks at least ten Champagnes, from vintage to rosé and blanc de blancs, with dosage ranging from brut and extra brut to brut nature. Almost all of these are grower-Champagnes. We'll happily help you select a bottle that should satisfy your palate.
We also have many, many alternatives to Champagne, some made with the same varieties of grapes in Champagnes (Chardonnay, Pinot Noir, and Meunier), though many made with the varieties common to their regions. Below are a few of our favorites.
Austria
Steininger, Gruner Veltliner, Sekt, 2016– $26
Steininger, Cabernet Sauvignon, Sekt, 2016– $26
France
Bechtold, Crémant d'Alsace, Extra Brut, NV–$24
(organic; Chardonnay and Auxerrois)
Delmas, Blanquette de Limoux, NV– $18
(organic; Mauzac & Chenin Blanc)
Dme Taille aux Loups, Tradition, Brut, Montlouis, 2015– $26
(organic; Chenin Blanc)
Moirots, Crémant de Bourgogne, NV– $20
(Pinot Noir, Aligoté)
Italy
Furlani, Bianco, Frizzante, Brut Nature, 2018– $27
(Organic; Nosiola, Verdealbara, Lagarino)
Luigi Giordano, Rosato, Brut Nature, 2015– $33
(organic; Nebbiolo)
Castel Noarna, Rethium, NV– $24
(organic; Nosiola, Chardonnay, Sauvignon Blanc)
South Africa
Graham Beck, Brut, Cap Classique, NV– $18
This wine is referred to as "President's Choice," having been selected by 
Nelson Madela as the bubbly for his inauguration and by Obama to celebrate winning the bid to become the Democratic presidential nominee
(51% Chardonnay,49% Pinot Noir)
Graham Beck, Brut, Rosé, NV– $18
(66% Pinot Noir, 34% Chardonnay)
Spain
Bermejos, Espumoso, Rosado, Brut Nature, Lanzarote, 2016–$37
(100% Listan Negro)
Gelida, Gran Reserva, Brut, Cava, 2015– $19
(biodynamic; Xarel-lo, Macabeu, Chardonnay, Parellada)
Raventos i Blanc, di Nit, Rosato, Conca del Rui Anoia, 2017– $24
(biodynamic; Xarel-lo, Macabeu, Parellada, Monastrell)
US 
Argyle, Brut, Willamette Valley, 2015– $20
(70% Pinot Noir, 20% Chardonnay, 10% Pinot Meunier)
Charmat 
The style associated with Prosecco, the Charmat method injects a sugar addition into a large, pressurized tank of base wine, allowing for a quicker secondary fermentation via tank temperature control. The wines spend little time on their lees, which are filtered before bottling, thus removing the step of dosage. It's a faster, more efficient and therefore more affordable way to make sparkling wines whose signature is freshness.
Alice, Prosecco, Doro Nature, Valdobbiadene– $24
(100% Glera)
Massimago, Mago, Brut Rosé, Spumante, Valpolicella, 2017– $20
(organic; Corvina)
Tiamo, Prosecco, NV– $14
(organic; 100% Glera)
Alpha Box & Dice, Zaptung, South Australia, NV– $16
(100% Glera)