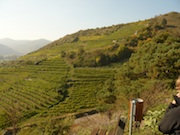 As many of you know, Frank and I were fortunate enough to do a wine trip to Austria several years ago. While there, we fell in love with Austrian whites—Gruner Veltliner especially, but also Riesling and several blends that joined Gruner with other lesser known varieties like Gelber Muskateller and Welschriesling. In the years since, Austrian reds have come on strong. In addition to the native Blaufrankisch, Saint Laurent and Zweigelt (the last a grape developed as a cross of the first two), there is also some very solid Pinot Noir coming mostly from the Burgenland.
Earlier in the year, we were contacted by one of our distributors from whom we buy a lot of our Austrian wines, about participating in "Austrian Wine Month," from May 8th-June 7th. Usually we are not big on marketing plans to promote someone's wines but, . . . this month is timed with the arrival of the new vintage whites and we do love Austrian wines and think that if more people were exposed to them, they would too! We said okay, we'll participate.
Agreeing to participate meant only two requirements: first, that we tell you about some Austrian wines that we enjoy; and secondly, that we host a tasting of Austrian wines—that's easy! Our Austrian wine tasting is scheduled for Saturday, May 11th, at 5:30. It will be led by Winthrop Pennock, of Artisanal Cellars and will focus on new vintage whites. There is a $25 tasting fee that includes light food pairings by North End Butchers. Reservations are necessary. Please call (802) 246-6400.
Selecting wines was a lot harder than arranging a tasting; we really do like a lot of Austrian wines! We decided that we should choose at least one wine from each major growing region, that we should have whites and reds that represent the varietals most associated with those regions, and that we had to limit ourselves to one bubbly (that was really hard!).
The major regions responsible for the highest quality wines in Austria are Niederosterreich or Lower Austria; Burgenland; and Steiermark, also known as Styria. Lower Austria, ironically enough, is in the northeast part of Austria. The areas above the Danube—Wagram, Kamptal and Wachau, are the regions from which the creme de la creme of Austria's dry white wines derive. In the area of Lower Austria southwest of Vienna, Carnuntum and Themenregion, the climate is warmer, allowing the classic red varieties of Blaufrankisch and Zweigelt to ripen. The Burgenland, southeast of Vienna, produces full-bodied, rich reds and delicious dessert wines. Finally, Styria, located in the southeast, bordering Slovenia, produces terrific whites, including elegant Sauvignon Blancs and rich Gelber Muskateller.
There really is something for everyone in Austrian wines. We hope that you will embark on a little wine journey with us this month, discovering the breadth of Austrian wines and appreciating the quality of wines you get for the price.  Our picks for the month, along with descriptions from Winthrop, Klaus  or me, are posted separately.