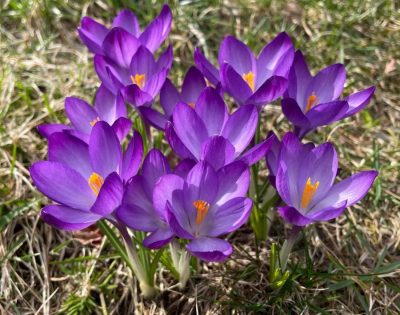 As I start this email in later mid-April, Frank and I are sitting outside enjoying our morning coffee together. It is not yet 7:00 a.m. While we love it, it is disconcerting and a reminder that global warming is real. The April issue of our newsletter always features "earth-friendly" wines as we welcome spring and are mindful of our deep connection to this magnificent planet. It has been remarkably forgiving of our disregard and even abuse. We owe it some care, including making consumer choices that consider the practices of the producers. Each of the wines we recommend this month is a product of environmentally-responsible farming and winemaking. It is our pleasure to work with these producers.
We are also winding down the tasting season with our final two tastings. We have our last virtual tasting of the season on Saturday, April 29th, at 5:00 with Pete Stolpman of Stolpman Vineyards, a biodynamic, dry-farmed winery on a limestone outcropping in California's Central Coast. The Stolpman wines have captured my attention; we carry four of the five currently available in Vermont and await the arrival of their rosés. We look forward to tasting with Pete as our guide.
We finish the fall-winter 2022/winter-spring 2023 tasting season with an informal in-person tasting at the Green River Bridge Inn in Guilford, VT, on Saturday, May 20th, at 4:30. We invite you to travel to our Brigadoon, Green River, which actually is magical but not mythical. We'll be showing 20+ wines that the team has tasted recently and declared each to be a contender for their regular rotation of summer wines. You can find out more about both the Stolpman virtual tasting and the in-person Green River tasting below.
Windham Wines remains committed to searching out wines that we believe have value to you. Our goal is to provide you with a selection of wines that you find satisfying, and with service that reflects how much we value your support. Thank you.