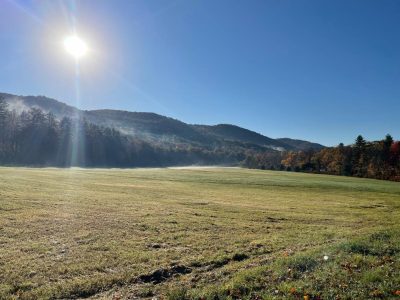 It is that time of year when we bring gratitude to the front of our minds. Frank and I are in the happy position of starting each day with a welcome cup of fresh coffee as we overlook the meadow and begin our day together. It is easy to feel gratitude when we live in such a breathtakingly beautiful place. Once we start down the gratitude path, we are almost overwhelmed by our good fortune. Daily we remark on some magnificent view of the meadow (one is above), which leads us to express appreciation for having the best neighbors, one on either side and then we move along our road and think that they are all exceptional neighbors and what is the likelihood of that? And the road crew, don't they do an excellent job of maintaining our road? And then there is my grand-doggy, who by a stroke of luck for us lives next door, even if it is only for a short time (picture below). And friends, . . . how can one ever account for the importance of friends? People who know us and choose to be with us– wow, lucky, lucky us.
What about owning a business that is frequented by people who make the whole enterprise not just interesting, but fun? We share conversations that move from wine and food to family, travel, politics and include the range of emotions from joy to anxiety; it is a treasure to develop relationships over the years. We say it every year at this time, and we feel it everyday that we are in the shop interacting with you, our customer-friends. We are grateful for your support and for your friendship.
Santé, customer-friends.
And happy Thanksgiving 2022! Here are our hours this week:
Shop Hours
Thanksgiving Week
Tuesday, 12:00-6:00
Wednesday, 11:00-6:00
Friday, 11:00-6:00
Saturday, 11:00-5:00
Regular Shop Hours
Wednesday, 1:00-6:00
Thursday, 1:00-6:00
Friday, 11:00-6:00
Saturday, 11:00-5:00