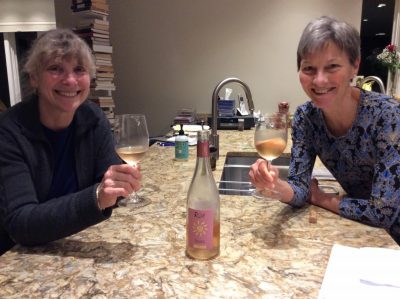 My friend (and a friend to many to of you, too), Peg, sent us an email thanking us for a wine that she gave as a gift, observing that, "[w]ine has the power to transport people to places, experiences, and people that are held in the heart." In that case, a bottle of Sicilian wine propelled its recipients to a grandmother's time and village, allowing them to celebrate her life as they remembered her from their porch in Apalachicola, FL.
This is one of the properties of wine for which we are so grateful– it is often associated with memories of times with others and is connected to experiences that generate new memories. I just returned from visiting my father in Ohio where I usually stay with my brother, Chris. We look forward to evenings when we share wine together, each of us eager to turn the other on to our recent discoveries. Likewise, when we travel abroad with our friends, we visit wineries together and always take some of those wines back to wherever we are staying together to accompany our evening meals. When we return to Vermont and the 6 of us get together, we enjoy wines from our recent travels. Always they bring those places and those shared experiences vividly back, and we toast our fortune for our friendship and those memories. Friends and family are people held in our hearts, and wine can be a thread that connects us across place and time.
The arrival of fall reminds us that we will be spending more time inside, in physical contact with fewer people, always practicing social distancing now. We have a fun and informative diversion to offer– our virtual tastings. We can still connect with you, with each other and share some new experiences. We can be transported, even if only for an hour, to another place as we hear the story of what is in our respective glasses. We hope you will travel with us in the season ahead.