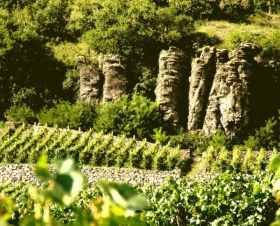 Did you know that no more than fifteen wine grape varieties "account for 90 percent of the wine grapes grown in the United States and France" (Ian d'Agata, Native Grapes of Italy, 4)? "Shop locally, taste globally" embraces not just supporting a local shop like Windham Wines, but because of our selection of small, family-owned wineries with links to their specific cultural traditions, your choice to shop consciously helps to preserve and promote diverse native grape varieties.
Native grapes are also known as indigenous or autochthonus varieties-auto meaning own and khthon, meaning earth. Many native grape varieties are associated almost exclusively with a specific place, literally their own earth. Because of this connection to place, native grapes "also speak of tradition and identity" (d'Agata, 4). We hear this frequently from our winemakers who visit. Wines made from local varieties are as expressive of their cultural traditions as are their local recipes.
We celebrate those traditions and that diversity at Windham Wines. We appreciate our wine curious customers who love to go on a little adventure, trying a Nerello Mascalese from Sicily or a Jurancon Noir from Southwest France. When you buy those bottles, we see the faces of those who tended the vines and "raised" the wine. We see them in their context, with other family members, working their vineyards, embedded in their local communities, perpetuating their traditions.
When these producers visit us at Windham Wines, they always leave impressed with you, our customers who support their efforts and make them feel that their commitment to place and its native varieties is appreciated across the continents. They look forward to returning to Windham Wines because of you.
We look forward to seeing you soon at Windham Wines and sharing with you some of these unique wines.