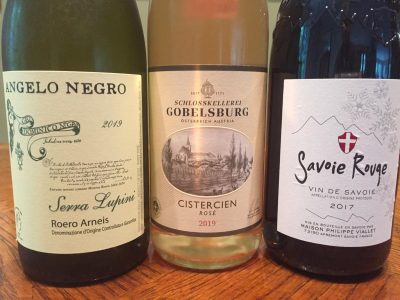 Sparkling
Crotin, Nautilus, Brut Rosato– $20, organic
80% Freisa, 20% Pinot Noir
Freisa is a grape native to the Asti area of Piedmont from which this wine comes. Done in the fresh Charmant method in which the carbon dioxide from primary fermentation is captured in the tank, the Crotin, "Nautilus" shows black cherry, cinnamon and violets on the nose, then more of the same on the palate with just a hint of anise as well. I kept thinking "Dentyne," a gum I used to chew 40 years ago when I likely had my last piece of gum, but I always liked that brand for the cinnamon-dark cherry-peat flavors. 
Whites
Achados e Perdido, Codega do Larinho, Douro, 2018– $14
Achados e Perdido translates as "lost and found," referring to the old vines vineyard terraced along the steep banks of the Douro River in the region of Portugal known for making Port. Codega do Larinho is a white grape traditionally used for making white port, but here is picked early, fermented via indigenous yeasts and vinified dry. The result is a fragrant white with melon and pear fruit, some nutty richness but then a vein of salinity to lift those flavors to a clean finish. 
Brand, Electric Chardonnay Acid Test, Pfalz, 2018–$17 organic
For those who think that Chardonnay is all tropical fruit (pineapple and coconut), soft, buttery and full-bodied, try this uber-light, crystalline, fresh, and yes, electric wine that showcases the purity of naked Chardonnay—no malolactic, no oak, just barely ripe berries whose juice is converted to alcohol. Its energy is like having a cup of coffee—black, because there is not a molecule of residual sugar here. 
Garciarévalo, "Casamaro," Rueda, 2018– $12 organic
85% Verdejo, 15% Viura from vines ranging in age from 15 to 145 years.
Verdejo remains one of those undervalued varieties that bundles flavor and acidity with enough weight to be a companion at the table, particularly in early summer when we enjoy some foods with a green hue to them—asparagus, garlic scapes, fiddleheads. Citrus, salinity and a pretty, fresh herbal greenness (parsley, lemon balm) make this a refreshing summer white. 
Angelo Negro, Serra Lipini, Arneis, Roero, 2019– $17 organic
Giovanni Negro produced the first commercial dry Arneis in 1971. The Serra Lupini comes from a single vineyard composed of porous limestone-rich soils that produce minerally wines. The Negro, Arneis shows citrus, chamomile, pear, flint, and almond aromas and flavors, with a long and satisfying lime, mineral and almond finish.
Orealios Gaea, "R" Robola of Cephalonia, 2019– $13
The 2019 "R" Robola of Cephalonia is unoaked, dry and comes in at just 12.3% alcohol. No Retsina here, just a lively, penetrating wine that is all about fresh, clean flavors,  and bright acidity– a refreshing summer sipper. 
Ostatu, Rioja, Blanco, 2019–$16
85% Viura, 15% Malvasia from high-altitude, older vines (30-80 years) in calcareous clay soils deliver some terrific minerality. Unlike many white Riojas, the Ostatu sees no oak, so no sweet flavors are added from the winemaking. There is time on the lees for a bit of body. Tart green apple and greengage plum fruit with this delightful salty, minerality—perfect for mussels or oysters, but will happily just accompany you on the porch.
La Staffa, Verdicchio dei Castelli di Jesi, Classico Superiore, 2018– $15 organic
Wow—Italian whites just keep over-delivering. It helps that the importer put this on sale and we bought a bit. Citrus, but a softer citrus like orange or tangerine, along with lime curd and quince, with a nutty (almonds-walnuts) that gets lengthened by a jolt of crisp acidity. 
Tegernseerhof, T-26, Gruner Veltliner, Wachau, 2018– $15
This is another one to gobble up at this price. Usually $18, which is still a good value for a Wachau, Federspiel, Gruner; at $15, this is a steal. Let's just keep this price to ourselves, shall we? Always characterized by a tension between fruit and acidity, we prefer these wines a year after they arrive, which is now.
Terre Stregate,"Svelato," Falanghina del Sannio, 2018– $16  organic
This is Terre Stregate's signature wine, awarded 3 glasses (tre bicchieri) by Gambero Rosso for the previous vintage. It has sweet Meyer Lemon and a softer lime curd citrus on entry, and substantial weight, but finishes bright. This should pair nicely with lobster, lobster rolls, pasta primavera or a more Sicilian pasta with lemon, capers or olives for that saltiness, then cauliflower and ricotta.  This Falanghina from Campania has been a customer favorite for at least 3 years; you'll see why when you give it a go!
Wolffer Estate, Classic White, Long Island, 2018
Pinot Blanc (68%), with Chardonnay and Riesling   Delicate and flavorful, the Classic white is light-bodied with fruit flavors of peach and melon, and a beguiling aroma of something floral without being sweet. Enjoy this wine with some soft cheeses and fresh fruit (I like the idea of peaches and blueberries with this).
Rosés
Ameztoi, "Rubentis,"Getariako Txakolina– $20
50% Hondarribi Beltza and 50% Hondarribi Zuri  In the Basque region of Spain, Ameztoi overlooks the Bay of Biscay. Cloaked in fog, the grapes ripen at low levels of sugar, which translates into low-alcohol wines. Txakolinas are bottled with carbonation, which gives the wine a cheerful spritz that accentuates its freshness. Red berries, white pepper and again that minerality, along with the light fizz make this a ringer for a summer sipper. 
Charvin, Cotes du Rhone, rosé– $18  organic
A ton of fruit upfront—strawberry, blueberry to orange that gets complemented by lavender and orange zest mid-palate. This is a sneaky wine that manages to seem lithe while weighing in at 14%+.  Drinker beware!
Farmstrong, Field rosé, California, 2018– $8 can (375 ml)
50-50 old vine Zinfandel and Carignan
Faith Armstrong's Field rosé co-ferments old vine (80 year old vines) Carignan with Zinfandel both of which were picked early specifically to make a rosé. The result is a low alcohol (just under 12%), high energy wine with flavors and aromas of rhubarb, pomegranate and blueberry fruit carried by high natural acidity. Note that this is still the 2018. This can really preserves the freshness.
Gobelsburg, Cistercien, Niederösterreich, 2019– $18
A blend of Zweigelt, St. Laurent and Pinot Noir, the 2019 presents a core of blueberry and pomegranate fruit that complements secondary aromas and flavors of graphite, coriander and a lovely minerality. Refreshing and crisp, this wine has been making a regular appearance at our house this summer. 
Commanderie de Peyrassol, Cotes de Provence, Rosé– $20
Cinsault, Grenache, Syrah with a splash of Mourvedre combine to produce the classic Cote de Provence, rosé— orange and pineapple fruit are balanced by enough acidity to finish bright with fresh minerality. 
Triennes, Méditerranée (Var), 2019– $16
Mostly Cinsault from Provence, but outside of an AOC, so just a Méditerranée. Tarter fruit than the Peyrassol, red grapefruit, cranberry and red currant, initially light but very concentrated; mid-palate and finish show floral and spice that linger.. Lots of wine here for the price. 
Reds
Boniperti, Favolalunga, Colline Novaresi, 2016– $17
A beautiful, light red just in time for the dog days of summer. Nebbiolo is a parent of Vespolina, the grape of the Favolalunga. It shows that heritage with pretty floral notes, but could never be mistaken for a sweet wine given its undercurrent of juniper and eucalyptus.
Forlorn Hope, Queen of the Sierra, Red– $18 organic
Barbera, Trousseau, Tempranillo, Graciano, Cabernet Sauvignon
Leave it to Matthew Rorick, of Forlorn Hope (he named it that because he believed his efforts to make his own wines had, at best, a slim chance of success) to put together this unlikely quartet that then sings in harmony.  Pretty blue-gray fruit and savory notes, from blueberry and huckleberry to slate and flint combine in this midweight, satisfying red. 
Luigi Giordano, Langhe Rosso, 2019– $18 organic
Nebbiolo and Arneis—who knew that it happened historically in Barbaresco and Roero? I guess the Piedmontese, who planted Arneis within Nebbiolo vineyards to distract the birds with the earlier-ripening Arneis. This is Barbaresco fruit that cannot use that DOCG because the vineyard is north-facing. It is a surprising (it is Nebbiolo after all) summer red, the acidity of the Nebbiolo lifting the red fruit and floral flavors that get some nutty interplay from the Arneis. 
Noelia Ricci, Sangiovese, Predappio, Emilia-Romagna, 2018– $17
100% Sangiovese, which we had to include in as a summer red for our imminent season of local tomatoes, particularly when combined with freshly-picked basil. Eric Guido, of Vinous, described this as "[p]ure, ripe cherry, balanced by a mix of zesty acids and minerals all develop in the glass. The finish is medium in length, resonating on mineral-strewn red fruits and inner floral tones."