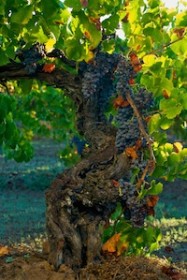 In the past 1-2 years, we have been getting some terrific new US wines available to us in Vermont—California producers Arnot-Roberts, Bedrock, Birichino, Broc Cellars, Copain, Dashe Cellars, Donkey and Goat, Forlorn Hope, Porter Creek, and Salinia and, from Oregon, Montebruno.  Here, we focus on two new California red wines and one from Oregon.
2012, Birichino, Grenache, Besson Vineyard, Central Coast — $21.99
Made from 102-year old vines on their original rootstock. While that latter description may evince a "huh?," it is sort of a big deal. Almost all vines that produce grapes for wine are grafted onto American roots that are not susceptible to phylloxera, an insect that sucks the sap from vine roots and ultimately destroys the plant. There is no antidote for vines once phylloxera have invaded, but American rootstock releases a stickier sap that clogs their little mouths and repels them. In any event, after a wave of total destruction of vineyards across Europe, it was discovered that phylloxera were uninterested in American rootstock, so most vineyards are now planted with Europe varietals grafted onto American rootstock.
The Besson Grenache not only uses grapes from old vines that produce smaller but more concentrated yields, but the wine ferments via wild yeasts (the most expressive of terroir) and includes a bit of whole cluster bunches that have been "drying" for 8 days in boxes before fans. The short drying period leaves the berries moist but dries the stems. This smaller batch is then fermented whole cluster and blended back into the remaining Grenache just before bottling. What difference does that make? According to Alex, " We found that it added length and depth to the main cuvée without muddying the brilliance we adore in this grenache. Alone it is a crazy wild riot of white peach and winter spices- a totally different palette of flavors that contribute quite a lot of personality and dimension, without overpowering the Grenache."
Sounds kind of crazy, doesn't it, but the proof is in the glass—a light-colored, lighter-bodied wine that is not light in flavor or mouthfeel. There is a creaminess to the wine, and the flavor is just seductively fresh, with strawberry-blueberry fruit, some spice and a nice floral nuance. About the 2011, Josh Raynolds, of International Wine Cellar, wrote, "I find this ridiculously easy to drink, owing to its Pinot-like delicacy and verve."
2012, Folk Machine, Parts and Labor, Red blend, Mendocino — $15.99
Another balanced, delicious, affordable wine by Kenny Likitprakong, who started Hobo Wine Company in 2002. Enchanted by wine's ability to "create community, to be history, to tell a story, and to transcend time and place," The Hobo Wine Company has been a source of some customer-favorites in this price point (we are still awaiting the return of the juicy Camp, Cabernet Sauvignon that won hearts and minds last vintage).
Parts and Labor is a blend of 35% Carignan from 100-year old organically-farmed vines, 20% Grenache from McDowell Valley and 45% Syrah from a biodynamic farm in Potter Valley. Per Kenny, this is a California version of a French bistro wine—"light on its feet, great with food, fun and easy to drink, and almost above all else, affordable."
2012 Patricia Green Cellars, Pinot Noir, Ana Vineyard, Dundee Hills — $35.99
There is so much to say about this wine. First, the vintage—2012. Patty Green says that it is the best since she and Jim Anderson launched PGC in 2000. Robert Parker wrote that it is "an unqualified great vintage." Jim Anderson says that "the 2012 wines have enormous depth, intensity and stuffing, but they have structure, breed and complexity. . . . the best of the bunch fro 2012 will reward extensive cellaring and turn out to be sophisticated and compelling wines for well more than a decade (or even two)."
We tasted 8 different Patricia Green Pinot Noirs and elected to bring in two. The first to arrive is the Ana Vineyard. Planted in 1978, these are old vines for Oregon. Located in the Dundee Hills AVA which is made up of volcanic, basalt-clay soils that warm up later, hold moisture longer and ripen more slowly. From my days at "Pinot Camp" 4 years ago (yes, there is such a thing!), I learned that the effects that volcanic soils transmit to Pinot Noir include seductive aromatics, red-blue fruit, baking spices, and softer tannins while retaining good acidity.
Fragrant rose and lilac aromas were complemented by pretty earth aromas of ash and sandalwood. We were smitten by this wine because it was both beautiful now but promised to evolve into something elegant and handsome. At this price, that seemed like a great investment—enjoy now and enjoy later.