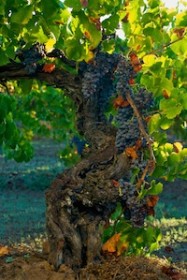 Whites
Australia
2011 Zontes, Footstep, Love Symbol, Savagnin, Langhorne Creek–$17.99
This relatively young vineyard (9 years old for the 2011) was planted with the white varietal associated most frequently with the Jura. Jancis Robinson's tome, Wine Grapes, locates Savagnin in the Traminer family, so a very aromatic wine with aromas of dried apricots, orange zest, and hazelnuts. The Zonte's "Love Symbol" is a dry wine with a full, creamy mouthfeel.  For pairings, think rich, creamy textures—lobster, double or triple cream cheeses, perhaps topped with an apricot chutney, polenta with chicken or roasted cauliflower, or aloo gobi. Only 800 cases produced.
Portugal
Vinho Verde is one of the favorite whites of summer.  "Green wine" is not about the color, but about when the berries are picked—young, when they are low in sugar and high in acidity. The resulting wines are low-alcohol (usually between 9-10.5%) with bracing acidity to provide a crisp summer sipper. Often, they are also finished with a bit of carbon dioxide just before bottling that produces a light spritz in the glass and on the palate for additional refreshment.
One of the intriguing things about Vinho Verde is that it can be made from a combination of 25 different white grapes, though most seem to rely on 4—Loureiro, Alvararinho, Trajadura and Arinto. We tasted 10 different Vinho Verdes before deciding to bring in the 2 below  which, ironically, use pretty much the same grapes.
2013 Arca Nova, Vinho Verde
50% Loureiro, 40% Arinto, 10% Trajadura
This is an estate wine, with grapes grown by the producer.  A little less acidity than the Broadbent, so the mouth feels a little fuller but, it is all relative. It's a 10% alcohol wine that is dry.
2013 Broadbent, Vinho Verde
50% Loureiro, 40% Trajadura, 10% Arinto
Though Bartholomew Broadbent buys grapes through contracts with growers, this is always reliably fresh and crisp, making it a customer favorite as we head into summer's dog days in July and August.
2012 Las Lilas, Vinho Verde
Loureiro and Treixadura
Slovenia
2011, Movia, Sauvignon Blanc, Ceglo, Slovenia– $30.99
Against the eastern border of the Italian Fruili region, the Movia estate has been producing grapes since 1700, and in the Kristancic family since 1820. Ales Kristancic is the 8th generation to work with the vines.  Like his father, he is committed to biodynamic practices, which he believes are key to producing healthy grapes that convey the passion of the land.  Ales explains that what he wants from his wine is "just the expression of three kingdoms of passion," where the "kingdoms" are plants, animals and us. If you would like to hear Ales describe his relationship to his wines, here is a video.
The Sauvignon Blanc is like no other Sauvignon Blanc I have had—none of the vegetal, pithy quality of a New Zealand Sauvignon Blanc nor the grassy to tropical aromas of a California Sauvignon Blanc, yet it is much rounder and riper than a Loire-Sauvignon Blanc. Maybe orange juice, ginger, and cachi –persimmon, but here I mean ripe enough to eat with a spoon. The wine has something like that texture too, very round which is probably a function of spending two years in barrel (used) aging on the lees. Kristancic uses barrels for all his wines. He does not use sulfites and instead relies on the barrels to leach tannins into the wine to help preserve them.
United States
In the past 1-2 years, we have been getting some terrific new US wines available to us in Vermont—California producers Broc Cellars, Donkey and Goat, Copain, Arnot-Roberts, Bedrock, Forlorn Hope, and Salinia, Dasche Cellars, Porter Creek, Montebruno, from Oregon,
2012, Birichino, Malvasia Bianca, Monterey– $15.99
Though Birichino is a new producer, the winemakers, Alex Krause and John Locke, have been making wine with others for years, most notably, they spent years with Randall Grahm at Bonny Doon. That baptism has strongly influenced their approach to the wines they make. According to Alex, we "make wines that we like to drink. Low in alcohol, high-toned in terms of aromatics, brightness from acidity, with very minimal intervention, native yeasts, and stainless steel or neutral barrels. We practice the art of staying the hell out of the way and letting the vineyard do the talking."
Birichino began in 2008 with one wine, this Malvasia, from a vineyard once leased by Grahm but which he let go when he shifted from organic to biodynamic. With his blessing, Krause and Locke began buying the fruit and making this wine. While the wine is dry, there are some sweet aromas of pineapple and cantaloupe, which also come through on the palate. It is a remarkably ripe wine for the 12.5%, yet has plenty of frisky acidity on the finish to leave the palate fresh.
2013 Lieu Dit, Sauvignon Blanc, Santa Barbera– $21.99
Founded in 2011 by partners Eric Railsback, a sommelier, and Justin Willett, owner/winemaker for Tyler Winery, Lieu Dit focuses exclusively on Loire varietals citing Santa Barbera's marine sentiment and diatomaceous earth similar to that of the Loire Valley. While we hope to get in the Chenin Blanc later this week, for now we are happy to offer the Sauvignon Blanc.
The wine is a blend of Sauvignon Blanc from three vineyards in SantaYnez's Happy Valley. The different lots are fermented differently, most in barrel, some in tank, then blended and aged in neutral barrels.
This is the only wine from this producer that I have tried; it makes me want to drill a bit deeper.  It has some watercress, fresh spring peas (soon!), and lime zest on the nose and palate, and here is where the Loire resemblance comes in—fresh, crisp,  and clean on the finish.  Reminds me of the wet stones as we walk along our Vermont dirt road by the Green River.
Rosé
France
2013, Domaine Lafage, Miraflors, Rosé, Cotes du Rousillon– $17.99
This is a mostly Mourvedre, splash of Grenache blend that is drop-dead delicious. Jeb Dunnuck, the Rhone reviewer for Robert Parker's Wine Advocate, wrote the following about this wine: "Coming from terraced plots along the coast and aged in all concrete, it is decidedly Provencal in style with juicy, pure strawberry, citrus, orange peel and ample minerality as well as a medium-bodied, racy profile on the palate. Hard to resist, with fabulous purity; enjoy it over the following year," which is something we intend to do. Since this wine was given a 92 by Dunnuck, we are likely not to get more than the 2 cases we ordered months ago.
2013, Domaine de la Petite Cassagne, Rosé, Costieres de Nimes– $10.99
Equal parts Cinsault, Grenache, Syrah and Mourvedre. Hard to beat the value of this organically-farmed rosé from the South of France. While there is some fresh white peach, dried cranberry and grapefruit on the nose, I would not describe it as "fruity" so much as minerally. Somehow, even the nose conveys a crispness that almost makes me salivate.  This is going to be enjoyed on the porch with some regularity this summer.