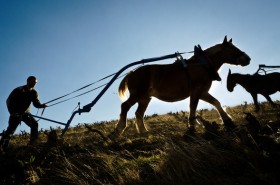 2010 Domaine des Enfants, l'enfant perdu, Cotes Catalanes– $31.99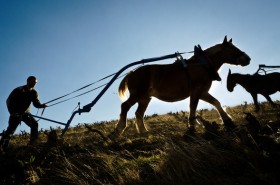 The domaine is owned by a young couple, Marcel Buhler and Carrie Sumner—she is from Oregon, committed to working with the vines to give the grapes the opportunity to express their personalities. Marcel works mostly in the vineyard, while Carrie nurtures the juice in the cellar. As you can see from the picture of Marcel with their horse, Nina (and supervised by their goat, Bambou), they pursue natural practices, eschewing the use of herbicides, choosing instead to rely on healthy soils and cultivating by horse and plow. Old vines (most planted before World War II) farmed organically produce small yields that are hand-picked, then in the cellar, individual grapes are hand-sorted, . . . twice.
Grenache, Carignan, Syrah and Lladoner Pelut blend from the Cotes Catalanes in Rousillon. The last grape found me reaching for the definitive source on wine grape genealogy—Jancis Robinson's Wine Grapes. Lladoner Pelut is in the Grenache family, where it is known as Garnacha Peluda, or "furry" Garnacha because of the downy fuzz on the underside of the leaves that protects it from losing moisture during the hot summers. It has smaller berries with thicker skins and higher acidity than Garnacha Tinta. Carrie Sumner writes that "we like Lladoner Pelut because it is different. It is a bit more floral, lighter, less alcohol, and has a bit of elegance." Whatever contribution the Lladoner Pelut makes, this is a wine with identity!
L'enfant perdu is a dense wine with some blackcurrant fruit, along with some black tea and peat, but rather than finishing heavy, it gets lifted by some freshness on the end.
2012 Domaine des Enfants, Le Jouet– $19.99
I went to the source for this wine's blend since it was not included on their website. Carrie Sumner wrote that "[i]t is not on the website because we don't offer it in every market. It sells out too quickly [. . . .] The name "le Jouet" means "The Toy." It is called that for a reason, and that is so that we have some flexibility with the blend. The 2012 is about 50% Lladoner Pelut. . . . The rest of the blend is 40% Grenache with about 10% Carignan/Syrah. There is no oak on this wine. The Lladoner Pelut stays in cement tanks for about a year, and the Grenache was held in Stainless Steel. The Syrah/Carignan came from neutral oak barrels (400-600 litres)."
2013 Domaine Rimbert, " Cousin Oscar," –$14.99
This entry was written by Rafael Flores, owner of Artisanal Cellars.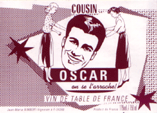 About a month ago I received a sample of Domaine Rimbert 'Cousin Oscar' 2013 from Jenny & Francois. I had no idea what it was, had never seen the wine nor tried it. I put the bottle in my wine rack to sample at a later date. Then two weeks ago, my mother-in-law was up from Boston visiting and I decided to open 'Cousin Oscar' for dinner. Delicious, 11.5% alcohol, refreshing, full of flavor and aromatics. My initial guess was Gamay or Cinsault and, being that Domaine Rimbert is in the St Chinian sub-region of the Languedoc, Cinsault was more likely. I sent a text to Tim Mortimer, who works with Jenny and Francois, inquiring and, sure enough, 100% Cinsault. I immediately ordered 12 cases and they arrived this week. This is just a delicious summer red.