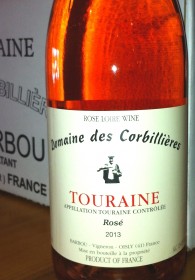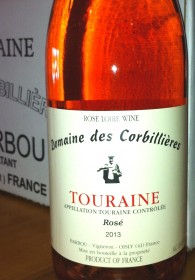 Rosé
Domaine des Corbillières, Touraine, Rosé, 2013
This is a really enjoyable wine. I am so glad that Fore Street in Portland made a mistake and served me this instead of the Domaine des Corbillières, Sauvignon Blanc that I ordered (and already knew I liked, and which would've been a great complement to the excellent baked North Haven mussels appetizer). With a superb dinner, this little rosé was a happy discovery. Often, rosés from France's Loire Valley can have a vegetal quality to them, but this blend of Pinot Noir and Pinot d'Aunis offers plenty of fruit in the glass: cranberry, blueberry, cherries, tart tartin, with a finish of orange zest and, for those of us old enough to recall it, Beeman's gum.
We feel fortunate to have this rosé available at this price. Only 1300 cases were made. Dominique and Veronique Barbou, owners of Domaine des Corbillières, farm their grapes with as light an environmental footprint as possible, growing only indigenous varieties, foregoing chemical fertilizers and pesticides, and hand-harvesting grapes.
This Loire rosé is going to be a welcome addition to a wide range of foods, from fresh greens with blueberries and cranberries, Indian food (I like the idea of the sweetness of fruit in this wine with saffron), charcuterie,  grilled tofu or chicken with a some of the newly-marketed BBQ sauce from North End Butchers .
Producer: Domaine des Corbillières
Country, Region: France, Touraine
Grapes: 70% Pinot Noir, 30% Pinot d'Aunis
Price: $14.99
If you like this wine, you might also try: Fontanes, Rosé; La Kiuva, Rosé, Valle d'Aosta,; Domaine Rimbert, Cousin Oscar, Cinsault