Wine lovers, rejoice. Here is our latest selection of recommended wines for Spring 2021. Enjoy!
White Wines
Waterkloof, Circle of Life, White, Stellenbosch, 2016
$20 (biodynamic)
67% Sauvignon Blanc, 29% Chenin Blanc, 4% Semillon
We sampled this wine during a virtual tasting with Paul Boutinot, Waterkloof's owner, and I am happy to report that I am not the only one who is smitten by it. Though technically Stellenbosch, which can be quite hot, Waterkloof is located just 2.5 miles from the Atlantic ocean importantly keeping temperatures moderate (Paul has not recorded temperature above 31 degrees Celsius, or about 88 degrees Fahrenheit since he purchased the property in 1999) and providing serious winds that combat humidity on the grapes (that can lead to rot).
There is so much good we could say about what these environmental pioneers are doing. Those superb practices mean that we can really enjoy the wine: peach, pear and apricot fruit, with a creamy mouthfeel and a spicy finish. Our palates are all unique. Something about this wine really speaks to mine.
Bermejos, Malvasia Volcanica, Lanzarote, Canary Islands, 2019
$28 (organic)
The lunar-like picture above captures the uniqueness of Lanzarote. A series of over 100 eruptions between 1730-1736 left the southwestern part of the island covered with volcanic ash 2-4 meters deep. In order for anything to grow, it must get to the fertile soil beneath that ash layer.
Vines are planted by digging through that layer, creating a conical depression that encourages the scarce moisture– mostly from condensation– to funnel down to the roots. The ash also serves to prevent evaporation.
Winds are so fierce on the island that stone walls are built on the windward side of each of these cavities (called hoyos) for protection against windburn. It turns out, however, that the wind also protected the Canary Islands from the blight of phylloxera. The vines are planted on original rootstock and many of them are 100+ years old.
This wine is not inexpensive but, as you can imagine, all the work is done by hand, from digging hoyos to building stone walls to harvesting grapes, and yields are tiny.
This was a real favorite among those who participated in our virtual tasting with Dani Martin, winemaker, and Rut Arbelo, public relations and fluent English-speaker as liaison.
The wine is full-bodied with tropical fruit flavors of pineapple and mango, and a pretty note of juniper berry.
Red Wines
Sfera, Rosso, 2020, 1L
$18 (organic)
30% Uva Rara, 30%Barbera, 15% Pinot Noir, 10% Croatina, 15%Riesling
This wild blend comes to us from Oltrepo Pavese in Lombardia, bordering Piedmont, Liguria and Emilia-Romagna. It is a project of importer Portovino, who identifies small, independent organic producers with whom they collaborate to make a liter bottle of everyday wine. Sfera wines are natural, fermented with ambient yeasts, no fining or filtering and minimal sulfur additions. The goal is to tap into a "cosmic verve," and bring it "down to earth in a bottle of wine."
We think they managed that with this delightfully different red blend. Light-bodied, smooth, but full of flavor for the weight. Aromas and flavors range from dried cranberries and cherries to floral, chocolate and cinnamon.
Onward, Zinfandel, Nouveau Style, Mendocino, 2020
$20 (organic)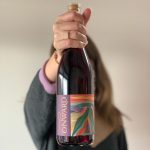 Faith Armstrong, owner-winemaker of Onward Wines, managed to create beauty from a "situation that was whole cluster," i.e. from the smoke-dominated 2020 vintage.
Committed to the growers with whom she has deep relationships, Faith "pivoted" by picking early so grapes did not experience smoke-dense hang time, but as a consequence have higher acid. She also fermented whole cluster so that fruit flavors were more expressive and acidity softened. Grapes were pressed mid-fermentation to limit skin contact (which is where the smoke concentrates) and fermentation was finished with just the juice, as with white wines.
The result, . . . not a whiff of smoke. This is a lively, lighter-weight wine with flavors of black cherry and strawberry fruit, peppercorns and a darker note of Beeman's or, for those not familiar with that historic gum, something that starts toward licorice then heads into clove. Faith drew on the collective wisdom of vignerons across time and place to produce a wine that is both interesting and deliciously quaffable.