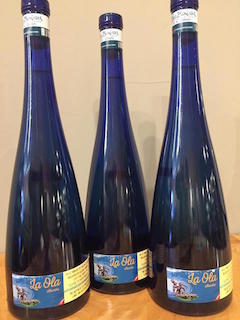 Eladio Piñeiro
La Ola, Albarino, 2017
Rias Baixas
Biodynamic– $23
We've been loving Albarino this summer and fall. Over the summer, we featured a lighter-bodied, uber-minerally style from Arcan. When we tried the La Ola in September, we knew that this was an Albarino that would carry over to fall and even winter, not to mention that the flavors literally turned out heads.
Super fresh orange and quince, with almond, spice and minerality delivered on a palate that is simultaneously creamy and crisp, one of the beautiful paradoxes of a well-made, memorable Albarino. Weird bottle, but delicious wine.
And some Cotes du Rhones
Why Cotes du Rhone? And why two?
We often re-enter the red wine season with Cotes du Rhone. They are
typically fuller-bodied, fruity and savory, with low tannins– an easy segue from white and rosé to red. The appellation allows for 21 different varieties, including at least 7 white varieties, though over 85% of the production is red. The majority of Cotes du Rhones rely on Grenache as the principal red, but there are regions within the broader appellation for which Syrah is the dominant variety. Given the range of blends across the appellation, you could easily love one Cotes du Rhone and not another. We thought that we would offer two that provide different expressions.
Domaine Coste Chaude
Madrigal
Cotes du Rhone Villages, Visan, 2017
Organic– $16
80% Grenache, 20% Syrah.
Coste Chaude's Madrigal is a classic Grenache-based Cotes du Rhone. Dark berry fruit, spice, and a little something herbal like fennel or tarragon with a full-bodied, velvety mouthfeel. No wonder this is a perennial Windham Wines' customer favorite.
Domaine de la Bastide
Figue
Cotes du Rhone, 2018
Organic– $14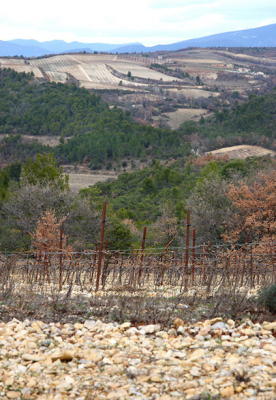 59% Syrah, 20% Mourvedre, 20% Carignan
For something from a similar terroir of limestone and galets (the large, smooth, rounded stones characteristic of good vineyards throughout the Southern Rhone) but completely different, the Figue offers sweet, meaty charcuterie aromas and flavors, more blueberry and plum fruit and a medium-full mouthfeel with a warm baking spice finish.