The hummers are back, rhododendrons and azaleas are in bloom, Walker Farm has opened and the Brattleboro Farmers' Market is underway. Perhaps most importantly to those of us here for it, mud season 2019 has ended. Spring has reluctantly, but finally, arrived in southern Vermont.
At Windham Wines, that means that our collection of wines is shifting to more whites and rosés than reds. The rosé rack offers many choices, at least twenty at last count, from France, Austria, the US, Italy and Argentina so far. New rosés arrive regularly. This week, we expect another few from France, the US and one from Lebanon. Please come in to begin exploring for your favorite rosé for summer 2019.
---
The arrival of spring also means that our tasting season is winding down. We finish strong. Our final stretch includes a Spanish tasting this weekend, for which we still have a few spots; a tasting of Piedmontese wines (northern Italy); and a double-header from Weingut Steininger, in Langenlois, Austria. Eva Steininger will lead a tasting with us on Friday evening, June 21st, focusing on still wines. On Saturday morning, we'll resume with an informal brunch to accompany a beautiful line-up of sekts– dry, sparkling wines from several different grapes.
We are excited about a number of the wines from producers we visited during a recent trip to Italy. We recommend a couple of those below.
We look forward to seeing you soon in the shop.
Wines To Try
Colombaio di Santa Chiara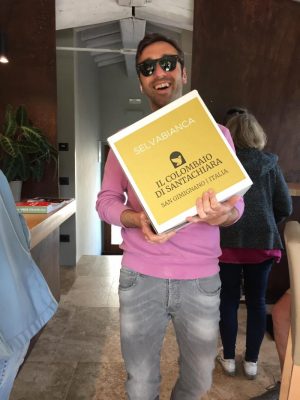 Selvabianca
Vernaccia di San Gimignano
$18.99– organic
This was our favorite white wine of our recent trip. Colombaio makes three different Vernaccias. This is the entry level; all six of us who tried it liked it best. In fact, we liked it so much that we decided to take home a case. Alessio Logi, whose family owns the winery, had to go to the cellar to get some bottles just as they came off the bottling line (that's him pictured, delivering us our case). The wine is juicy, fresh, crisp, and yet has some weight to it. Our sextet got an appealing mix of pear, lime curd, almonds and a hint of something floral.
Luigi Giordano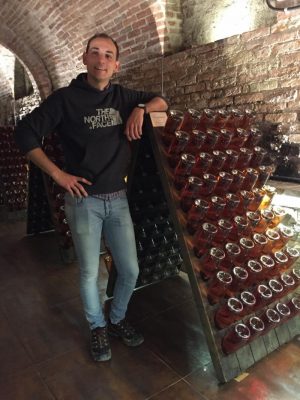 Rosato, Brut Nature, 2015
$32.99
Pictured above is the boy wonder, Matteo Rocca, the creator of this enchanting wine. Matteo is the 28-year-old grandson of Luigi Giordano. As part of his final project for his enology degree in Alba, he had to make some wine. Matteo made a sparkling rosé from Nebbiolo.
Though we have had other sparkling Nebbiolos, for our palates, this one has been the most consistent across vintages and offers great value. The wine is made from 100% estate Barbaresco fruit. We discovered that even though the vineyard is in Barbaresco (the tower is a stone's throw away), wines made from north-facing vineyards, such as this one, cannot use the Barbaresco DOCG. Luigi bottled wines from this vineyard as Langhe, Nebbiolo. Matteo now bottles it as Brut Nature rosé.
Absolutely dry, aged thirty months on the lees, the wine is fresh but gentle, with raspberry and dark cherry fruit and a beautiful orange peel and coriander finish. If you like sparkling, and if you like Nebbiolo, you really should give yourself a treat and try this wine.
Because he now has Matteo in the vineyards and in the cellar (a total of only 9 hectares), Luigi, 85, is able to spend his time gardening. When we arrived, he was replanting some lettuces on which birds had dined.