Virtual Wine Tasting Process
For those of you new to the tastings, we open two bottles together– available for purchase at Windham Wines– and talk with the winemaker or winery owner about terroir, grapes, farming practices and wine.
Come into the shop, buy the wines, leave us your email so that we can send the Zoom link. For the tasting, have your wines ready,  prepare some snacks, and relax into the evening with some delicious conversation.
Email us your email address so that we can send you the link to participate.

Virtual Tasting – Weingut Netzl, Carnuntum
March 27, 2021 @ 4:00 pm

-

5:00 pm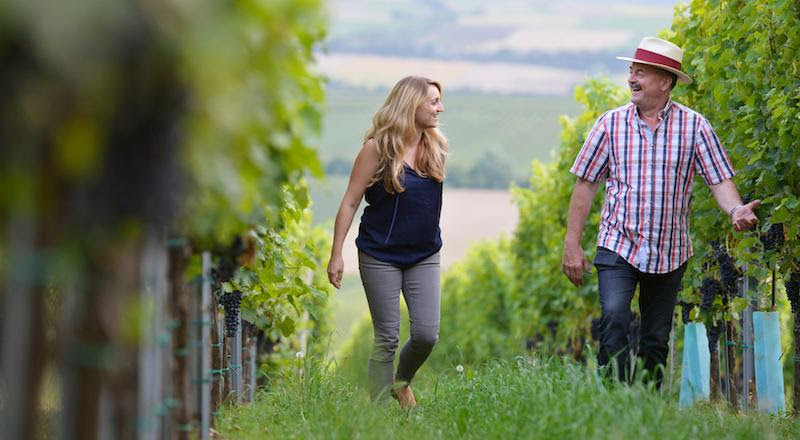 Weingut Netzl, Carnuntum
with Christina Netzl, co-owner and winemaker
4:00
Christina and the Netzl wines are no strangers to Windham Wines fans. Christina represents the next generation at Netzl. Having overseen the conversion of the vineyards to organic farming, Christina describes her job as winemaker as "strengthen[ing] the vines" to allow them to produce their healthiest grapes, which she refers to as the vineyards' "art." In the cellar, her role is to "accompany and listen to the wines. Support them without wanting to change them."
If you think white wine when you hear Austria, we can't blame you but, . . . Weingut Netzl is located in the Carnuntum region, Austria's newest Districtus Austriae Controllatus (DAC) for which both reds and whites can qualify for the designation. We will be tasting two reds with Christine: her Zweigelt Classic ($17) and her Carnuntum Cuvée ($16), a blend of Zweigelt, Blaufrankisch and Merlot.
Christine has sent her Goulash recipe that we will include with the invitation to the tasting. Stefano and Ale are making an egg pasta to mimic the csipetke or spaetzle.with which it would be served in Carnuntum. Don't forget to order your pasta and salami from Agricola Vermont to accompany this tasting. Please order either or both directly from them by this Saturday, March 20th. They will be delivered to the shop and available for you to pick-up by Thursday, March 25th.
Women Winemaker Series
We are celebrating Women during Women's History Month (March– but we are starting in late February) by focusing on women winemakers. We have an interesting and fun line-up that takes us from Australia to Austria, with a stop in Italy's Marche along the way.
If you would like to participate, the wines can be purchased at the shop. When you come in to get the wines, give us the email address to which you would like the zoom link sent. Join the zoom meeting at 4:00 and taste with the winemaker as your guide.